SAP Germany has named IBsolution "Partner of the Year" in the SAP Business Technology Platform category. In addition, the Heilbronn-based SAP consulting company can also look forward to the title of "SAP Focus Partner" for the sectors Process & Life Sciences, Discrete Manufacturing & Automotive, Financial Services and Professional Services, Travel, Telco, Transport, Logistics & Media.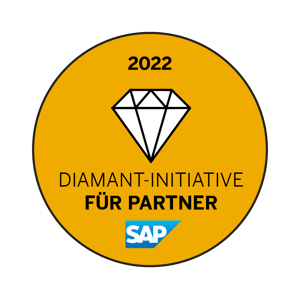 As part of the Diamond Initiative, SAP Germany annually determines the market performance of SAP partners and recognizes particularly outstanding contributions with the title "Partner of the Year". In the SAP Business Technology Platform category, this year's award goes to IBsolution. In the underlying evaluation matrix, the Heilbronn-based SAP consulting company achieved the highest score with regard to SAP Business Technology Platform.
Innovation leader in cloud technologies
"The award as Partner of the Year for SAP Business Technology Platform confirms our excellent market position and innovation leadership in the field of cloud technologies," says Loren Heilig, Managing Director of IBsolution. "There is no market competitor that maps the SAP Business Technology Platform portfolio, both in breadth and depth, to the extent that we do."
SAP Business Technology Platform is SAP's strategic cloud platform on which companies can leverage various services and functions – from database and data management and analytics functionalities to integration and extension scenarios. This enables companies to turn their data into business value in the fastest possible way.
Performance far above average
SAP rates IBsolution as a "best-in-class partner" in the dimensions of innovation and expertise. As far as the sales sectors Consumer Industries, Discrete Manufacturing, Service Industries, Public & Energy and Midmarket & Partner Sales are concerned, IBsolution's performance is also far above the average of all SAP partners evaluated.
The Diamond Initiative has established itself as a comprehensive transparency and appreciation approach for SAP partners. The results offer companies reliable support in assessing existing competencies and selecting the right partner for future SAP projects.