Design Thinking has often been hyped, but more and more people are questioning its value, impact and relevance. Often people associate design thinking with the design discipline or consider it a creativity tool that produces tons of post-its. Many people mistake Design Thinking for the design process itself. There are many design methods that are part of a Design Thinking workshop, but it is broader and more holistic.
The requirements
What do we need for organizing a Design Thinking workshop? First, we have to build up an environment that allows an "out of the box thinking". For the actual conduction we need interdisciplinary teams focusing on solving human problems. And before solving a problem you have to find one.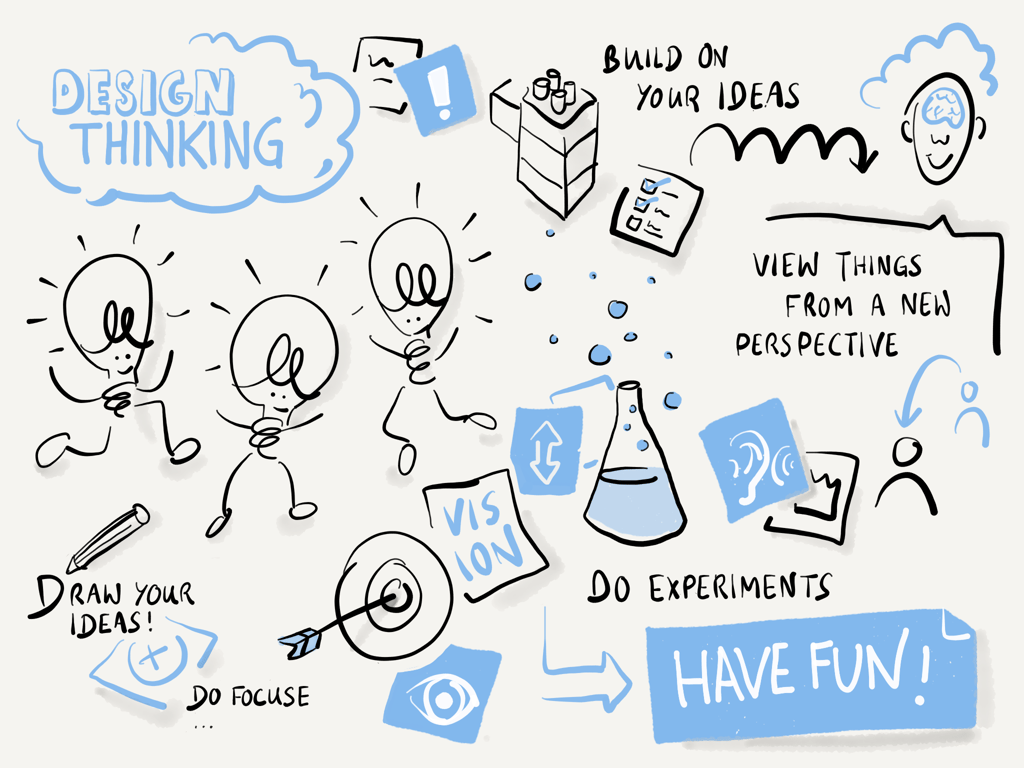 In the following I will share my insights into a Design Thinking workshop and demonstrate how visualizing your thinking can transform the way we work. Recently we have organized a two-day Design Thinking workshop in our Innovation Room. Moreover, in November 2018 we had the opportunity to organize a Hackaton with different clients.
I would like to show you a sampling of things we did and what I learned from the day. I will not explain the actual process of Design Thinking because it can be read elsewhere. It is more about the small details that make the difference when it comes to conducting a Design Thinking workshop.
The goals
Our main goals for these workshop days were to give the team members methods and strategies to think in a more creative way and to become more comfortable with a different, more visual way of working. Being part of a new kind of experience is a great way to rethink or reorganize your daily work.
Do you remember the expression "out of the box thinking" I mentioned earlier? Everywhere you are given the advice to "think outside the box". But I am telling you: First you have to think inside the box. Before thinking outside you have to understand the box, that means the actual situation of the problem: How big is the box? What material is it made of? What things have to be transported inside the box? And so on.
Design Thinking requires to understand constraints. My lesson learned is that once you are aware of the constraints of a problem you can go further. In a Design Thinking workshop, you should not stay inside – do not limit yourself. There are no rules only some hints and advices. But first things first.
The procedure
Every workshop should start with a warm-up activity. The most creative moments happen when the mind is relaxed. Make clear that the ideas will not be judged. Go for quantity, not quality. Always keep your user in mind. For this purpose it can be helpful to create a persona. Afterwards you can move over to the customer journey map that visualizes how your persona experiences your product or service and how he or she feels along the way. Our Customer Journey Map will help you to map it out and to process it physically.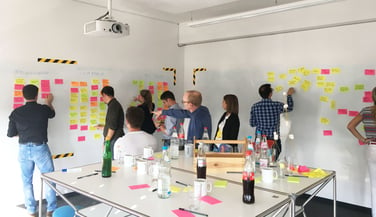 Through all the Design Thinking sessions ideas will be presented and discussed while the participants are sticking them on a poster or a wall. And yes, this could look like tons of post-its. Further on, you cluster all your ideas and identify themes. Based on your user's need you have to prioritize them. After a while the flow of ideas often slows down. Now you can add a new challenge: What if a superhero designed the product? Or in a more particular way: What if Steve Jobs, Albert Einstein or Saul Bass designed it?
The implementation in everyday work
What challenges do you face trying out a new way of thinking at work? Do you have some advice to overcome them? One challenge I am often faced with: Before and during the workshop the participants are excited about the potential of Design Thinking and want to try it in their organization. The next day they go back to work and it is business as usual. Some people ask about the workshop, but finally everyone is doing their work in the way they have always done. I wish for more acceptance and patience in order to apply Design Thinking at work on a daily base.
"If you always do what you always did, you will always get what you always got." 
Henry Ford
There are a few tips that could help you to apply Design Thinking back at work. One of the simplest strategies: start asking "why". It will help you – no matter on which topic – to define the problem more precisely. Secondly, use the right tools: gather some markers, post-its, paper and method templates like the Customer Journey Map. And the last one: Find like-minded people. Someone helping you in this process. This is good for those times when you feel lost or frustrated by the progress of integrating new methods.
In the end, Design Thinking is still great. Within two days, we get viable experience driving organizational change and new ways of thinking. Little things make big things happen. That is why these details matter.