For the first time since the Corona pandemic, the German-speaking SAP User Group (DSAG) is holding its most important industry meeting again as an attendance event. The DSAG Annual Congress 2022 will be held from October 11 to 13 at the Leipzig Exhibition Center.
The coverage of the DSAG Annual Congress 2022 at a glance:
Booth A5: IBsolution on site in Leipzig
IBsolution will be there and present at booth A5 its comprehensive portfolio, which ranges from strategy to process and technology consulting. One thematic focus is the new offering that IBsolution has developed together with its partners W+W Consulting and BPM&O: a holistic transformation program for companies that covers the complete lifecycle from requirements management to process analysis to operations. As part of the lecture program, IBsolution experts will also present successful projects with representatives of customer companies.
"In search of ... success"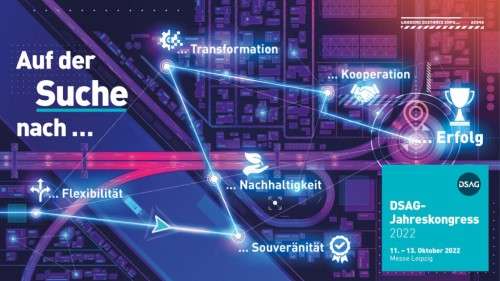 Every company strives for success. In this respect, this year's motto of the DSAG annual congress "In search of ... success" seems only consistent. However, the more challenging the general conditions are, the more difficult it is to achieve success. And there are more than enough challenges for companies in the current world and economic situation.
The paths that lead to success can be many and varied. Depending on the company, for example, flexibility, sustainability or transformation are decisive success factors. The common denominator: almost all companies are facing the challenge of subjecting themselves or their business model to change. "Some companies are already managing the transformation quite well, while others are still relying on their classic process landscapes," says DSAG Board Chairman Jens Hungershausen. "But all of them currently have to question their business models and processes and, if necessary, adapt them to new technical possibilities."
Sharing project success stories
Success stories can serve as inspiration and orientation for others. That's why the DSAG Annual Congress 2022 offers a broad program of customer and partner presentations. IBsolution will make two appearances: on Tuesday, October 11, 5:45 to 6:30 p.m., in a presentation with Testo Industrial Services, and on Thursday, October 13, 10:15 to 11:00 a.m., together with Infraserv Höchst.
Testo Industrial Services is the leading service provider for quality assurance and an expert in calibration, test equipment management, qualification and validation. Currently, the company is driving its digital transformation with the implementation of SAP S/4HANA. IBsolution is acting as consulting and implementation partner in this process. In a joint presentation, Ralf Birkenmeier, Head of Information Technology at Testo Industrial Services, and Andreas Fritzler, Senior Project Manager at IBsolution, will explain where the journey began, where it is headed and what experience both partners have gained on the first few kilometers.
Afriso-Euro-Index GmbH and its subsidiary Gampper operate in a business field characterized by complex projects, standard product business and variant production. For sales, this results in specific challenges that Afriso and IBsolution were able to solve with SAP Sales Cloud. Marc Fiedler, SAP Process Manager at Afriso-Euro-Index GmbH, and Ahmet Virit, Project Manager at IBsolution, describe how SAP Sales Cloud and apps on SAP Business Technology Platform have simplified and unified the quoting process across the company.
Infraserv Höchst has redesigned its investment process as part of the SAP S/4HANA migration. Planning, approval and control of projects now take place on a uniform platform for all process participants. Workflows and collaboration tools enable efficient collaboration. Redundancy-free real-time reporting provides insights down to document level at any time. In the presentation, Marco Ehrhardt, Head of Corporate Controlling at Infraserv Höchst, Nicolas Pradel, Business Partner Finance & Controlling at Infraserv Höchst, and Felix Weyde, Project Manager at IBsolution, will explain the implementation in S/4HANA embedded BW and the associated opportunities and challenges.
Around 3,000 participants expected
The DSAG Annual Congress 2022 aims to provide attendees with guidance on how they can act profitably in their companies in their quest for success. "Among other things, the DSAG Annual Congress thrives on the lively exchange between participants, with SAP representatives and SAP partner companies," says Jens Hungershausen. "That's why we are very pleased to be able to open the doors to visitors again this year." DSAG expects around 3,000 participants in Leipzig.