This year, SAP is hosting the global customer conference SAPPHIRE NOW as a virtual event over several weeks, divided into different regions. For Europe, the Middle East, and Africa (EMEA), numerous events took place from June 7 to 10, offering participants inspiration and innovations for their own business, as well as promoting exchange with industry experts and other companies.
The central kick-off event of SAPPHIRE NOW 2021 was the keynote speech by SAP CEO Christian Klein. In it, he addressed the question of how the greatest challenges of our time – the Covid-19 pandemic, geopolitical tensions, social inequality, climate change – can be overcome with the help of better networking of people, relationships and resources, and which innovations will help companies become more resilient, sustainable and intelligent.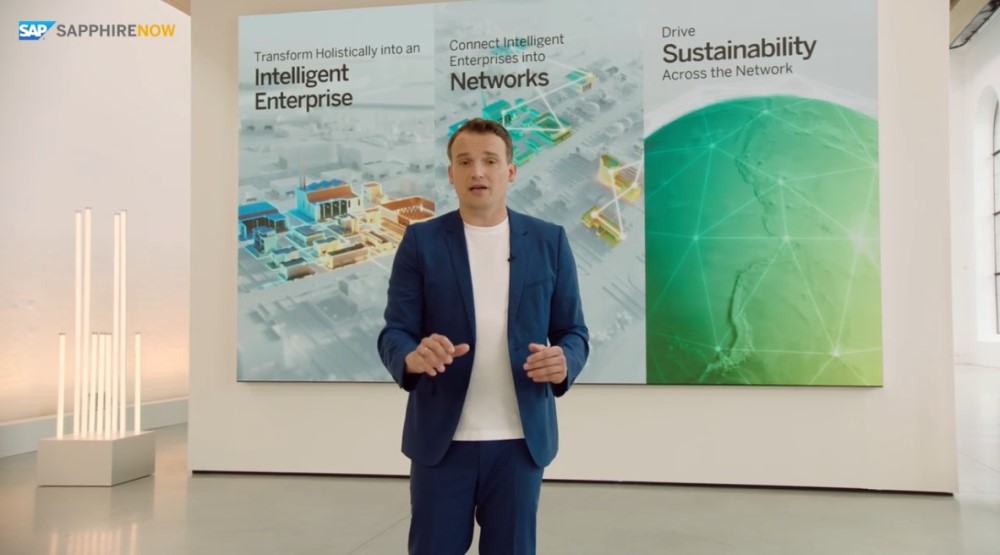 SAP CEO Christian Klein during his virtual keynote at the opening of SAPPHIRE NOW 2021.
Largest business community in the world
Technology is key to sustaining supply chains in times of crisis, redesigning business models to adapt to change, and creating new customer experiences. Networking plays a central role in SAP's concept of the intelligent enterprise, enabling companies to benefit from each other's experience and to operate successfully and sustainably together.
In his keynote speech, Christian Klein emphasized SAP's goal of establishing the world's most comprehensive business network with SAP Business Network. As a first step, SAP is bringing together Ariba Network, SAP Logistics Business Network and SAP Asset Intelligence Network under the umbrella of SAP Business Network. More than 5.5 million companies are part of this business community. They access information on logistics chains, supply flows, asset management and maintenance via a central portal.
Industry packages for RISE with SAP
SAP is also expanding its RISE with SAP offering. In addition to SAP S/4HANA Cloud, it will in future also include solutions for human resources and procurement, as well as a special package for human experience management (HXM).
With the "RISE with SAP Transformation Packages for Specific Industries", SAP also offers five cloud solutions for the retail, consumer goods, automotive, utilities, and machinery, equipment, and components industries. Companies will receive industry-specific applications that they need for their cloud implementation and that optimally fit the different requirements of the industries.
New solutions and features
Traditionally, SAP also uses SAPPHIRE NOW to announce new software solutions and product additions. SAP Process Insights, which is part of the Business Process Intelligence portfolio, can be used to analyze and improve real-world business processes. Verify, a new feature of SAP Concur, automatically detects discrepancies in expense reports based on artificial intelligence and machine learning. SAP Upscale Commerce is a no-code solution for online commerce. It is aimed at midmarket retailers and enables them to create a seamless shopping experience across all channels and deliver personalized offers.
SAP Analytics Cloud will be enhanced with operational workforce analytics and planning capabilities that integrate with SAP SuccessFactors. By linking operational data with financial and employee data, companies gain comprehensive HR insights. A new data marketplace for SAP Data Warehouse Cloud provides a platform where customers and partners can connect with data providers across industries and business units – with the goal of streamlining decision making. The low-code/no-code offering SAP Intelligent Robotic Process Automation Services provides new effective options for automation, especially in combination with SAP Process Insights.
The product innovations also clearly illustrate SAP's vision of the future business world: networked intelligent companies will fundamentally change the way they work on the basis of optimized processes and reshape processes in industries across company boundaries.