On February 1 and 2, the C4C Release 2002 was installed in the test systems. Roll-out in the production systems is planned for February 15 and 16. With the new version of C/4HANA, SAP has also announced a changed update policy: In February, May, August and November, substantial updates will continue to be provided every three months. In addition, starting this year, SAP will offer a so-called hotfix update in each of the months in which no new release appears. This will enable users to benefit from new functionalities even faster.
Platform & Integration
Fiori client UI
As with previous updates, SAP is implementing some user experience improvements in C4C Release 2002. For example, mass maintenance in worklists has been further expanded so that users can edit their data with fewer clicks than before. The new Quick View includes, among other things, a revised actions toolbar. In addition, users are likely to notice other visual changes, but we won't go into these in detail for reasons of space.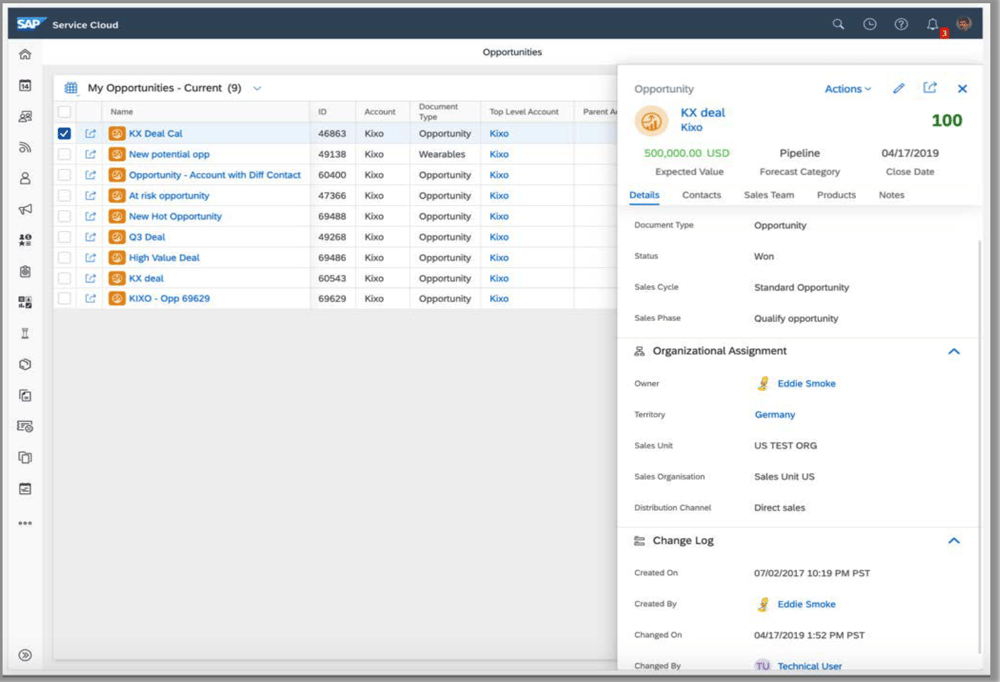 Also important: Special characters are now allowed in product IDs. The mass change of data in the product worklists is possible. And as an outlook: With the C4C Release 2011, which will be released in November, support for Internet Explorer will end.
Business Partner
The February update allows you to change the status in the overview table without opening the object. SAP has also implemented a workflow to transfer the status of the business partner, for example "obsolete", to the business partner's contacts with just one click. Also new: The Quick View has been revised and the system now also considers the additional fields during account merging. The OData services for duplicate checking and merging can be used by third-party applications and during migrations.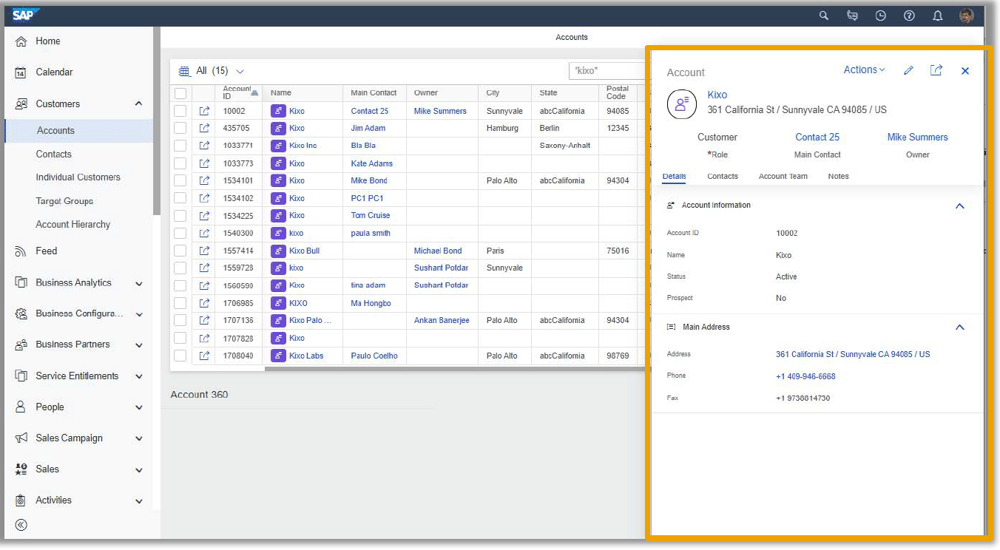 Analytics
The new C4C version offers the possibility to make attachments visible and open them in reports. There is a translation option for dashboard texts, and usability has also been optimized in Analytics.
Key user tools
New data types for additional fields are available. Objects can also be referenced among each other without a Partner Development Infrastructure (PDI). In the app, a click on the phone number automatically triggers a call and creates an activity. It is possible to add mash-ups in user-defined work centers and views.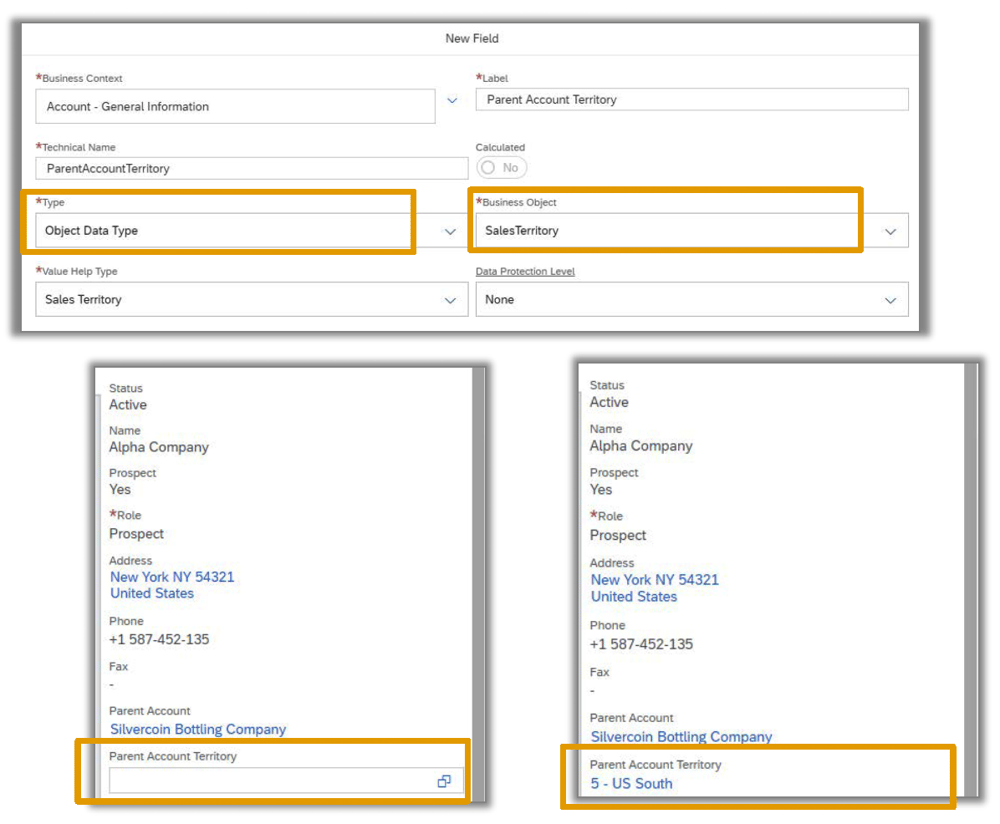 ERP and S/4HANA integration
The data of the variant configurator can be displayed directly in the C4C order. In addition, the ID equality between C4C and ERP can be configured for quotations, orders and contracts. Using a Business Add-in (BAdI), a custom logic can be implemented during generation when an S/4HANA quotation is copied into an order.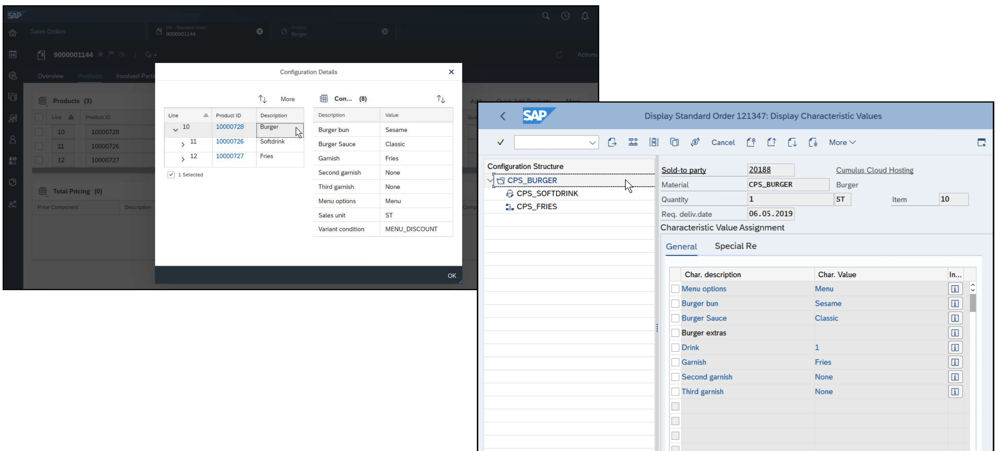 Groupware integration
Sent e-mails can now be assigned to C4C objects. Phone activities from C4C can be downloaded to Outlook. And cancelling meetings in C4C also cancels meetings in the Exchange or Google calendar.
OData and event notifications
In OData Services, shorter and therefore user-friendly IDs are possible to read, change or delete objects. Event notifications can be triggered for status changes directly on objects. This feature provides a better interface and more efficient control. The unnecessary exchange of data is minimized.
SAP Sales Cloud
Leads
Starting with C4C Release 2002, minimum order quantities of products are filled automatically. Mass maintenance of products is also possible. When a lead is converted into a customer, the C4C system takes on the role of customer into the newly created object.
Opportunities
The status and the reason for the status are visible at product level. The February update also allows tracking of competitors at product level. The parent customer, for example, in the form of the parent company, is displayed in the opportunity table. In addition to an improved view of the approval notes and history, there are also new workflow actions for opportunities. These include an automated status change, for example, when an opportunity is won.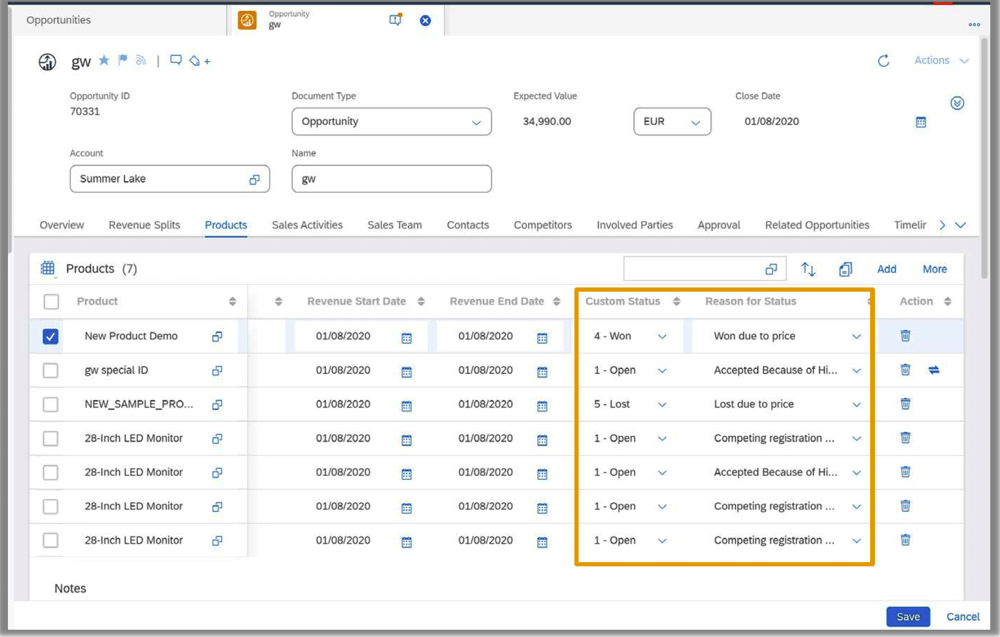 Quotations, orders and pricing
SAP has made minor adjustments to the versioning and change history of the offers. A new Quick View is available for orders and pricing, and the search function now comprises the option of including external references such as the order number.
Mobile app
The tiles on the start page can be customized as well as the screens for the different objects. In addition, the app now supports single sign-on and users can create and modify notes.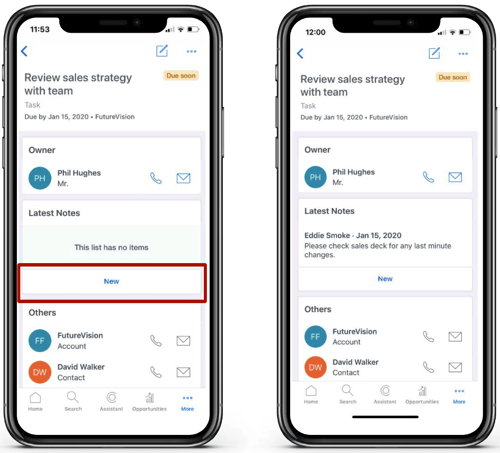 Activities and calendar
The C4C Release 2002 brings the option of personalizing the calendar using queries. Activities such as changing a person responsible can be carried out as mass maintenance. Tasks can be duplicated for multiple assignment. With the one time location feature, users can flexibly store locations that do not correspond to customer master data in visits.
SAP Service Cloud
Service channels
Thanks to the new Live Account screen, users will be able to see all relevant information before they answer the call. The timeline now has all the features of the previous Controls (SMS, Outlook, attachments). Images can be inserted in internal ticket notes. In addition, there are new workflows for e-mails, for example for unassigned mails. Their date of receipt can be used as date in the ticket. In addition, a drag & drop feature is available in Outlook.
Service management/tickets
The ticket hierarchy is displayed in different objects, such as customer or contact.

Attachments can be easily added to notes. To configure the output management, a template selection based on the ticket type or the service organization is available. Multiple products can be added with just one click. The workflow rules for service items have been enhanced with additional fields.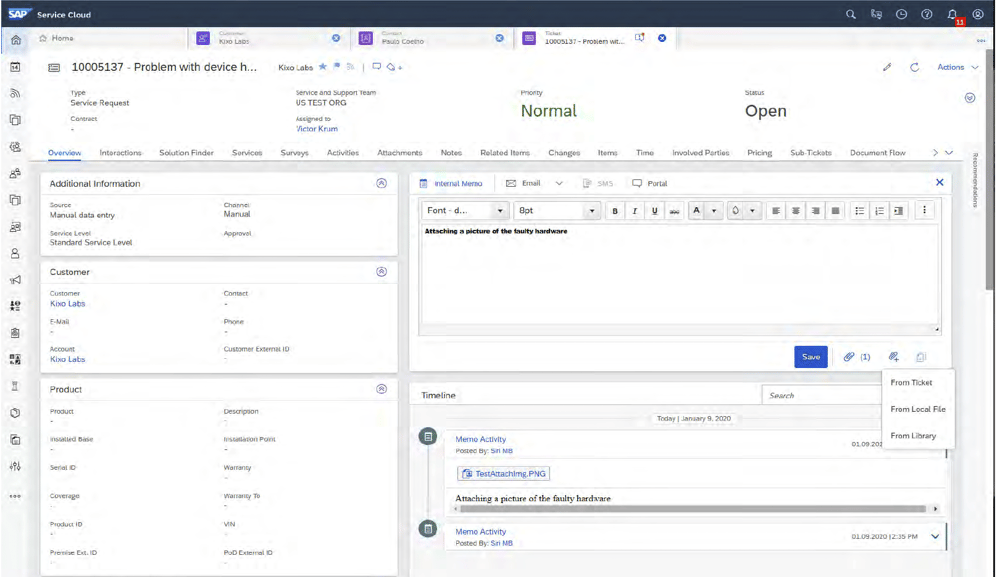 Workflows und templates
C4C Release 2002 reduces the complexity of workflows and increases system performance by allowing workflows to be executed even if the defined conditions do not apply. In addition, the controllability of e-mail signatures has been improved and it is now possible to download already stored HTML templates for e-mails.
Installation management
Especially some workflow enhancements are worth mentioning: The direct creation of multiple tickets for installations from within the customer and the hierarchy view for registered products in the customer or contact. Additional dimensions for product determination rules increase flexibility in time recording.
Field Service Management (FSM)
With regard to FSM, SAP has made adjustments to the Fiori UI. Now, users will be able to define planning scenarios, which will result in better usability and higher compliance. This means that board settings and technicians can be adapted for different scenarios. Using the reservation tool, service staff can book and manage the tools they need for an assignment. The result: a higher first-time fix rate. The display of Smart Forms in the respective workflow steps results in lower training efforts as well as better usability when entering relevant data, for example checklists and logs.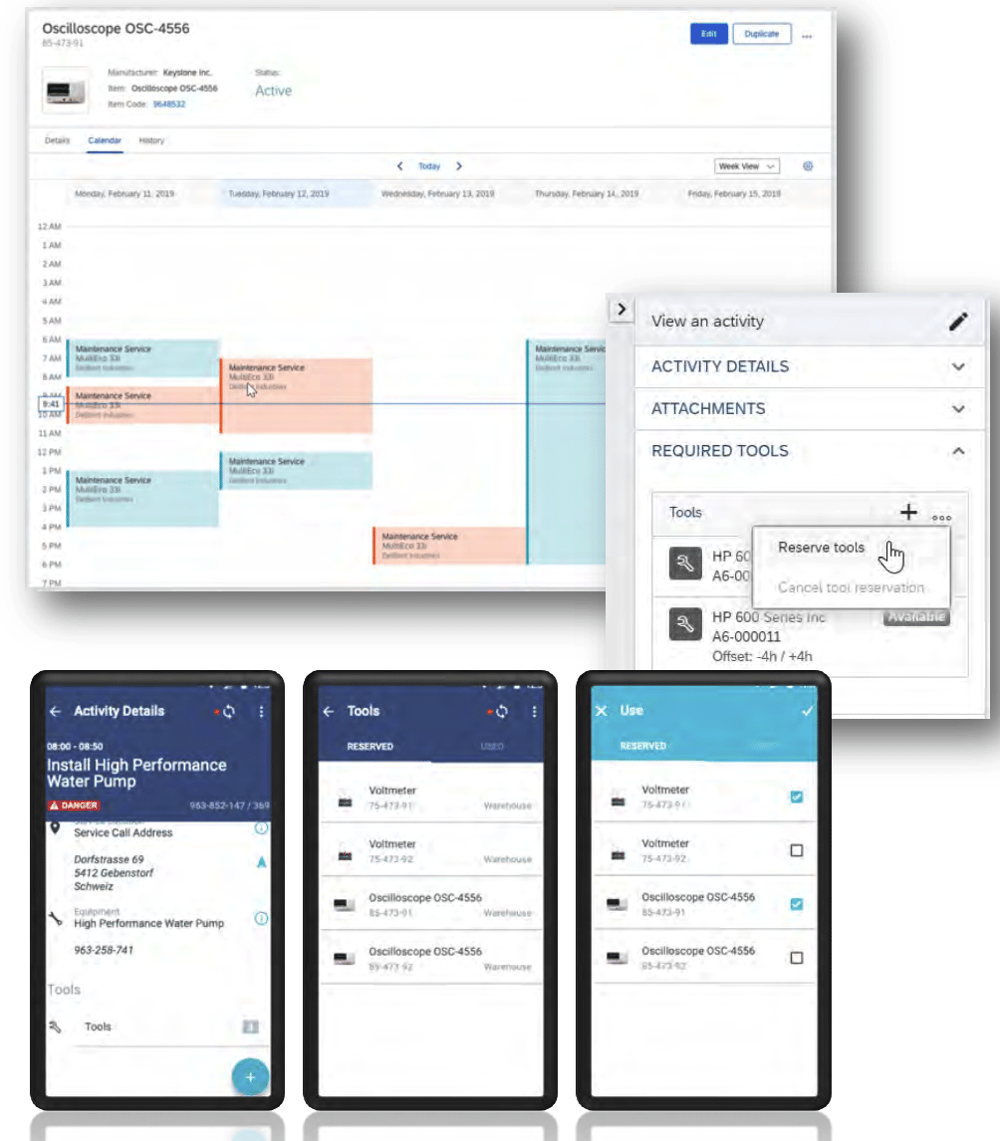 FSM integration
The C4C Release 2002 significantly deepens the integration between Field Service Management and C4C. Using a PDI-BAdI, data replication from C4C to FSM can be manipulated by your own logic. Furthermore, replication of contacts and attachments for registered products is now possible.

Position notes from C4C can also be replicated to the FSM activity. For tickets replicated in FSM, queries can be performed in C4C. FSM service calls can be replicated from the mobile app or the FSM service portal Now in C4C. Also new: the improved replication of the T&M Journal from FSM to C4C. Replication of ticket attachments will be bi-directional in the future.