Since the launch of SAP Datasphere in March 2023, various blogs, videos and other articles have appeared that primarily deal with the technical aspects of the successor product to SAP Data Warehouse Cloud. In this blog post, we would like to shed light on what benefits SAP Datasphere will bring to end users in the business departments.
---
Want to learn more about SAP Datasphere?
---
Why self-service BI was so complicated before SAP Datasphere
In the past, when companies wanted to provide BI self-services to users, they faced four main challenges:
needing to understand the relationship between data and business context

the need for IT involvement in the provision of the data

necessary restrictions through permissions

lack of post-processing capabilities for data in SAP Analytics Cloud (SAC).
Especially the last point of the enumeration, which resulted from aspects 1 to 3, was perceived as a serious disadvantage by the users. The comparatively high inflexibility of the data models and the dependence on data provision in conjunction with "missing" information often led users to load, enrich or modify data in Microsoft Excel or products such as Power BI, Qlik etc. and then visualize it. In the process, data records were often exchanged between departments, which undermined authorization concepts and led to the notorious shadow IT. This practice may be a short-term solution to urgent information needs, but it violates the principles of sound data governance, creating significant risks and potential negative consequences for the company.
How nice and simple it would be if users could model data independently in their business environment. IT's role would essentially be limited to ensuring that everyone could access data as they needed to, and providing occasional assistance.
How SAP Datasphere makes self-service BI easier
With SAP Datasphere, the prerequisites for providing BI self-services are changing. Two aspects in particular are essential for this:
consistent rethinking of the relationship between data and business.

massively expanded range of simple tools for business users
With its data warehouse solutions and the analytical tools based on them, SAP has always had the end user in mind. Data should be available for analysis quickly, harmonized, historicized and centralized from any number of sources. Strong authorization concepts should enable audit-proof access and the data should also be usable for other functions such as planning or individual applications.
Originally existing performance weaknesses were resolved by the introduction of the SAP HANA database. Previously unattractive reporting solutions were led into a powerful future with SAP BusinessObjects and later with SAP Analytics Cloud. SAP eliminated the sluggish pace of innovation and the time-consuming and costly release cycles of on-premise products by transitioning to software-as-a-service solutions that are easily accessible on SAP Business Technology Platform. With SAP Datasphere, SAP is also abandoning the often obstructive approach of trying to invent everything itself. This is evidenced by strategic partnerships with Collibra, Confluent, Databricks and DataRobot. End-to-end integration and further partnerships will (have to) follow.
Separation of business layer and data layer
The above-mentioned rethinking of the relationship between data and business is expressed in the separation of two different layers in SAP Datasphere: the business layer and the data layer. This separation already existed in principle in SAP Data Warehouse Cloud, but is consistently taken further in SAP Datasphere.

Source: SAP
A key principle of data storage and data modeling in SAP Datasphere is that data is used "as is". This means that it is either loaded and available in SAP Datasphere in a harmonized and, if necessary, historicized form, or it is consumed directly from its point of origin at runtime without having to move data back and forth. Of course, both are possible at the same time.
Without the need to develop complex ETL routes, direct access can significantly reduce time-to-value, for example. After only a few modeling steps, in which the users from the business department can take over the direction themselves, the data is already available for viewing in SAP Analytics Cloud. Compared to other SAP and non-SAP data warehouse solutions, users can make certain adjustments within the scope of their capabilities – and do not have to create a ticket with IT for this and, in case of doubt, wait days or weeks for minor adjustments. They can continue to delegate complex requirements such as extensive business logic to IT as usual.
In addition, a completely new data catalog and the expansion of the business catalog offer welcome support. Both components flow into a new form of "demand-driven modeling", which complements the previous "data-driven modeling". The business semantics of the business catalog form the link between the two worlds.
Source: SAP
SAP Datasphere puts the focus on business
As a result, SAP Datasphere opens up completely new possibilities for business users to create their own analytical models that meet their specific needs without having to leave the secure environment. It doesn't matter whether the underlying data comes from the company's own ERP system, from third-party systems, from data lakes, from public data providers, or from other hyperscalers (for example, AWS, Azure, or Google Cloud). It is thus logical data warehousing in its purest form. In this paradigm, the capabilities of SAP Datasphere support the specific capabilities of the users.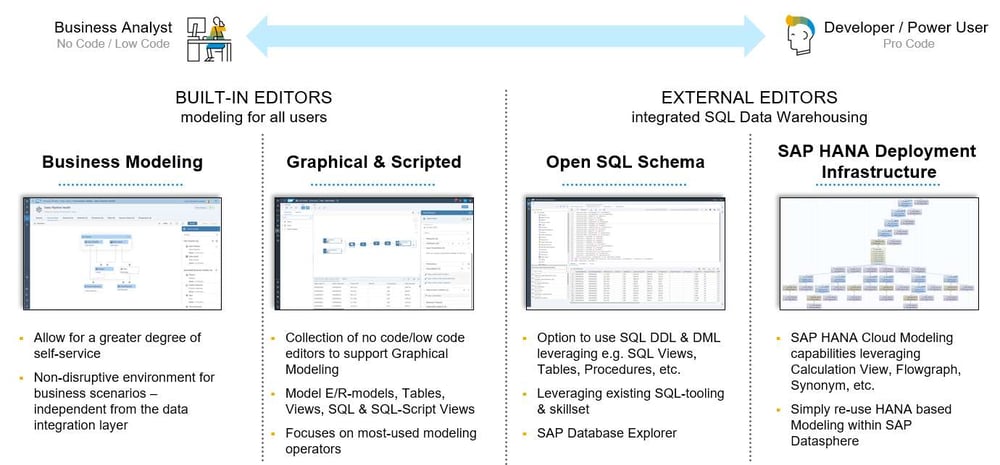 Source: SAP
There is no doubt that the collaboration between IT and business, and even the model worlds in SAP Datasphere, will change in the future. The resulting significantly improved business-IT alignment ensures the alignment and integration of business strategy and IT resources to achieve optimal results and competitive advantage. To achieve this, SAP Datasphere provides powerful tools that optimally support an intuitive workflow (see figure below).

Source: SAP
Enormous potential of business-centric analytics
IT departments or BI Competence Centers, business departments, but most of all decision makers will have to say goodbye to cherished notions if they want to move from their heterogeneous, insecure, costly and error-prone analytical environments to a powerful, secure, flexible and future-proof analytical ecosystem. This requires moving from a "standard data fabric" to a "business data fabric".
Source: SAP
Only business-centric analytics, where users have the greatest possible flexibility and at the same time a high level of security when creating their own analyses, will bring the decisive competitive advantages that are so important for companies in the current times. SAP Datasphere's evolved approach is also capable of providing massive support for the necessary analytics in areas such as sustainability, transparency, supply chains, resource management and employee satisfaction.