Organizing large amounts of data from different sources in a uniform and clear manner in one place is a major challenge for many companies. However, it is the prerequisite for being able to perform meaningful analyses and make precise forecasts. This is precisely where SAP Analytics Cloud (SAC) comes in, enabling all data to be brought together in one place and saving users from having to switch between different tools. SAC combines planning, predictive and business intelligence functions in one application. This allows IT departments, end users and decision makers to easily use the tool.
Functionalities of SAP Analytics Cloud
SAP Analytics Cloud combines numerous functionalities:
Create reports and organize them in clear dashboards

Planning functionalities supported by predictive models

Analytics Designer: Tool for individual app development

Connection to cloud and on-premise systems and operation in hybrid scenarios

Digital Boardroom: interactive working with stories via different displays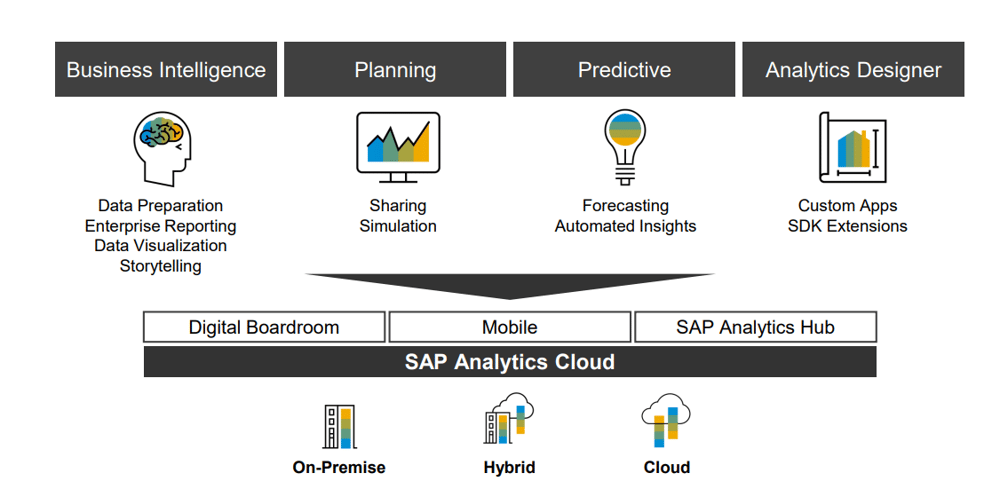 Connection possibilities of SAP Analytics Cloud
SAP Analytics Cloud is part of HANA Cloud Services and is a powerful front-end tool for business intelligence, planning and predictive analytics. The other HANA Cloud Services are SAP Data Warehouse Cloud, which combines data from on-premise and cloud systems in a data warehouse in the cloud, and SAP HANA Cloud, a cloud-native database for managing and operating high-performance applications.
There are various operating models for SAP Analytics Cloud. In a pure cloud environment you have a direct connection to the respective cloud source system. In your own company network, on the other hand, additional components are required for the connection between source systems and SAC. Depending on the connection protocol, this is either the Cloud Connector or SAC Agent. The Cloud Connector connects SAP Analytics Cloud via HTTP with the source system. If a proprietary protocol is used, the connection is made with SAP Analytics Cloud Agent.
Interaction with other applications
SAP Analytics Cloud is a component of many SAP applications, for example SAP SuccessFactors, SAP Ariba and SAP S/4HANA cloud. The integrated functionality aims to create analyses and planning applications in the local systems. In addition, SAP Analytics Cloud can also be established as a central planning instance to realize comprehensive planning. In the on-premise area it is possible to connect SAC with SAP Business Planning and Consolidation (BPC) – with the embedded model via live connection, with the standard model via data acquisition – with SAP S/4HANA and with SAP BW/4HANA.
The integration of SAP Analytics Cloud with SAP S/4HANA on-premise, SAP S/4HANA cloud or the BPC standard model works via import/export. The data is loaded from the local systems into SAP Analytics Cloud data model. If a company already operates BPC Embedded, it can use SAC as a front-end via a live connection. The functionalities remain in the BPC environment.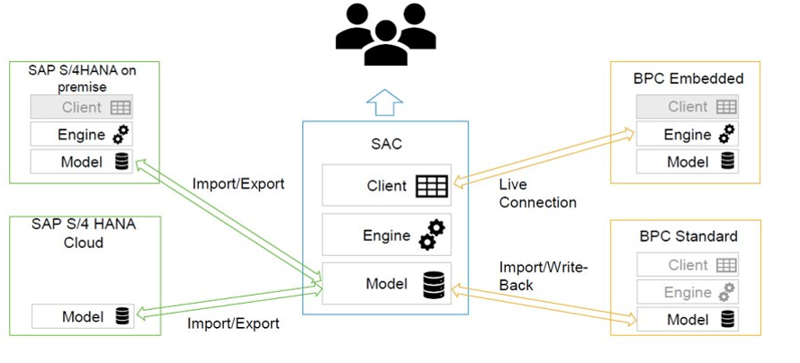 For Microsoft Office, SAP Analytics Cloud offers an Excel add-in that allows a wide range of users to perform ad-hoc analyses without specific SAC knowledge. The second variant, SAP Analytics Cloud Story, with its comprehensive range of functions, is aimed at business departments and working in a collaborative environment. The third option is Analytics Designer, which is suitable for mapping guided planning applications.
The individual steps of the planning process
The planning process is cyclical, so that the individual steps merge into one another and are repeated in several sequences. At the beginning there is the preparation of the plan. This includes creating and adapting the planning model, setting the parameters and loading the master and actual data. This is followed by setting the planning process. It includes setting deadlines, informing the participants and starting the individual tasks.
In the next step, the participants create a simulation or forecast. The acceptance of a planning proposal results in the input of the plan values, which may need to be adjusted. The visualization of the plan, which is carried out with the help of planned/actual comparisons, is finally followed by finalization. During this process, the data is transferred and data locks are set at the necessary points.
SAC has its strengths in the collaborative aspects of the planning process. It offers the opportunity to share stories, comment and discuss in chat areas. All steps take place in one interface. Another useful feature is the networking of individual sub-plans from the business plan. For example, input values from a sales plan can be transferred directly into a finance plan, or financial key figures can be transferred into a sales plan as an output basis.
Forecasting functions and planning calendar
The planning process is supported by various forecasting functions. With SAC Predictive Engine, users define forecast scenarios in the form of classification models, time series analyses and regression models. The values determined can then be fed back into the planning model at a later date.
Business planning processes are complex procedures in which several participants play a key role. To support them in the best possible way is an essential task of a planning application. SAP Analytics Cloud offers the planning calendar for this purpose, which can be used to set up and monitor planning steps. General tasks, data lock tasks and tasks or processes based on a characteristic can be set as task types. A multipart structure with roles such as creator, assigned agent and approver can be set up for the organization.
Conclusion: Planning tool with many functionalities
SAP Analytics Cloud is a powerful planning application that offers users numerous options and flexible modeling. Various tools can be used to create simulations. SAC also supports alternative approaches such as driver-based planning, which focuses on the key business drivers of companies. Furthermore, SAP Analytics Cloud has different planning variants – from top-down or bottom-up planning, what-if simulations, success and deviation analyses to predictive forecasts. Thanks to the broad spectrum of helpful functionalities, companies can effectively map their planning processes with SAC.
Make your sales planning easier, leaner and faster