A new offering from SAP is designed to help companies become Intelligent Enterprises. This digital business transformation takes place in three steps: Redesigning business processes, technical migration and building the Intelligent Enterprise. SAP itself also refers to RISE with SAP as "Business Transformation as a Service".
At the official launch, SAP CEO Christian Klein emphasized that with RISE with SAP, companies benefit from faster time-to-value, increase their flexibility, strengthen their resilience to crises and realize digital transformation. Any company can take advantage of the offering – regardless of where it currently stands in terms of digital transformation.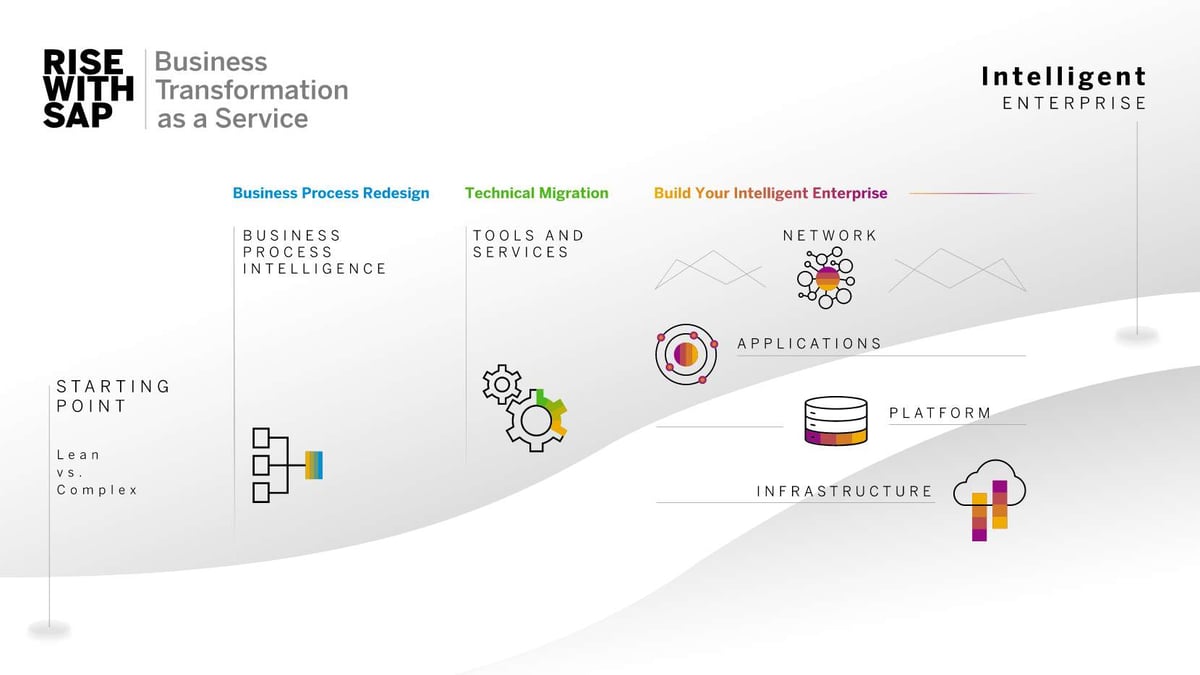 Source: SAP SE
Redesigned business processes
With Business Process Intelligence, companies have access to SAP's business model and process expertise. They have the opportunity to continuously analyze their own processes, compare them with industry standards and adapt them to current requirements. Intelligent technologies can be seamlessly embedded into business processes via a direct link to SAP workflow, robotic process automation (RPA), and other AI-based services (AI = artificial intelligence). This results, for example, in recommendations for the introduction of new business models or for the automation and standardization of processes.
With the acquisition of the Berlin-based start-up Signavio, SAP is expanding its business process intelligence portfolio. The deal, expected to be completed in the first quarter of 2021, was announced by Christian Klein in his keynote on RISE with SAP. By linking SAP's own process management business with Signavio's business transformation suite, SAP is creating a holistic solution for process transformation. It supports companies in understanding, managing, changing and optimizing their business processes.
Technical migration with RISE with SAP
RISE with SAP also provides companies with a wide range of tools and services from SAP and SAP partners for technical migration. Automated services simplify the transition to a standardized, modular and flexible system landscape in the cloud – the fastest way to benefit from innovations. This includes establishing a consistent data layer and eliminating custom code from core applications. When it comes to operating the cloud infrastructure, companies have a free choice: hosting in an SAP data center is just as possible as operating with a hyperscaler.
Building the Intelligent Enterprise
The holistic enterprise transformation is based on the Business Technology Platform. It enables the existing system landscape to be supplemented, extended and integrated with solutions from SAP, partners or third-party providers using the same data model. More than 2,200 APIs are available for fast and easy connectivity. A single semantic data layer enables real-time business management and planning and ensures high data quality as the basis for advanced analytics.
RISE with SAP bundles the fundamental components of the intelligent enterprise. At its core is SAP S/4HANA Cloud, which is an ERP solution with embedded AI and flexible deployment options that provides the foundation for more efficient business processes. In addition, companies have access to the global SAP Business Network, enabling them to manage their entire supply chain in real time and respond quickly to changing market conditions. SAP Industry Cloud offers industry-specific solutions with innovative functionalities that are tailored to the respective specific requirements of different industries.
Rapid success with low risk
Due to the subscription model, RISE with SAP involves minimal risk for companies. Without having to make high upfront investments, they can take a holistic approach to becoming an intelligent enterprise – from software solutions to technical services and infrastructure. "Companies that can quickly adapt their business processes are (...) among the winners," says Christian Klein. "That's what RISE with SAP is all about: helping customers reimagine business processes in the cloud to stay ahead of the competition in their industry."
For more information about RISE with SAP, click here.
Join our expert talk (in German) on RISE with SAP – including gin tasting