The more comprehensively sales employees are supported by the IT system using existing data, the better and more efficiently they can carry out their work. An innovative feature in SAP S/4HANA speeds up the execution of sales activities: the intelligent product proposal.
This functionality is a list of products for a specific customer that SAP S/4HANA automatically recommends to the user during sales document processing. Which materials (products) are displayed as proposals in the sales document can be determined just as flexibly and customer-specifically as the sequence of the displayed product proposals. The feature takes into account not only positive product lists, but also exclusion lists for the product proposals.
Individual proposals for each customer
When creating and processing a sales document, the system displays product proposals depending on the customer and the respective business transaction in the item overview. The user sees the product number, the product description and the historical order quantities in the most recent sales unit. If he wants to use a particular product from this overview again, he can simply copy it. The usual checks – pricing, availability check, incompleteness check, product determination, free goods determination, etc. – are only carried out when the order quantities are entered.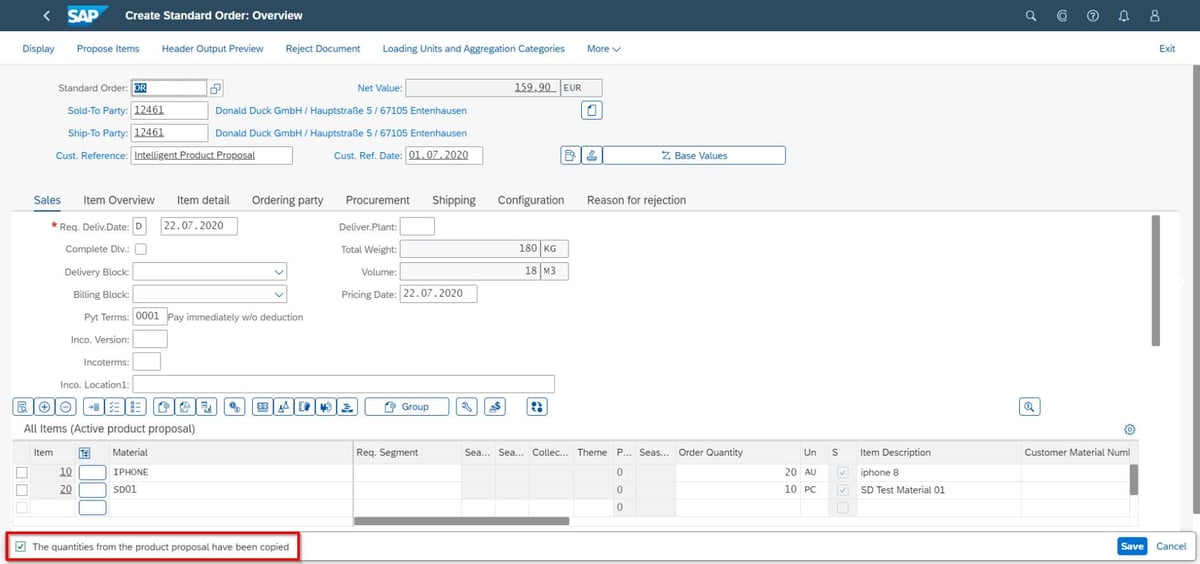 Useful support for sales
The intelligent product proposal in SAP S/4HANA serves as an entry aid on the one hand and provides sales staff with valuable information on the other. This proves particularly useful in telephone sales, as the user automatically receives a list of the products that are of particular interest to the customer in question during sales document processing. This enables him to give the customer appropriate advice or guidance quickly and easily. The product and quantity recommendations are based on historical data and enable better estimation of sales quantities as well as faster order entry.
Changes in purchasing behavior are detected
The history of a customer's previous sales documents makes it possible to analyze their purchasing behavior and identify at an early stage if they change their purchasing habits. For example, is the customer no longer ordering a product that he used to purchase regularly? Consistent use of historical data makes the sales process more efficient. In addition, the intelligent product proposal predicts whether the quantity of products ordered will increase or decrease.
Available since SAP S/4HANA release 2020
The intelligent product proposal can be defined depending on the customer and the sales area. It is displayed in the sales document directly after the customer has entered it. The functionality is a further development of the dynamic product proposal and has been available since release 2020 for SAP S/4HANA on-premise, which was released in October 2020.
SAP S/4HANA is the digital core for real-time insights into your organization