In addition to innovative features, SAP is also introducing a new licensing model with C4C Release 2108 that applies to newly concluded contracts. Existing contracts are not affected. In the future, standard C4C functionalities will be outsourced to the SAP Sales and Service Core. Standard user licenses and licenses with limited access are available for this. Private deployment is also possible, as is the option to purchase an additional test tenant. Innovative functionalities that go beyond the standard are offered as optional add-ons. These include, for example, Dynamic Visit Planning, Agent Console for SAP Service Cloud and Intelligent Sales Add-on for SAP Sales Cloud.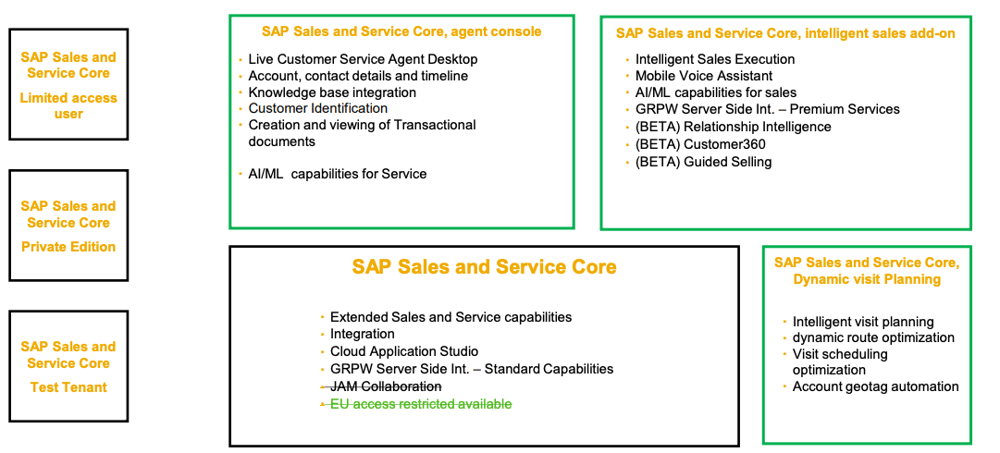 Platform & Integration
Fiori Client
One of the most important innovations in terms of functionality is the integration of Microsoft Teams into SAP Sales Cloud. Appointments in SAP Sales Cloud can be activated for collaboration with Microsoft Teams via customizing. Microsoft Teams meetings can then be started directly from SAP Sales Cloud.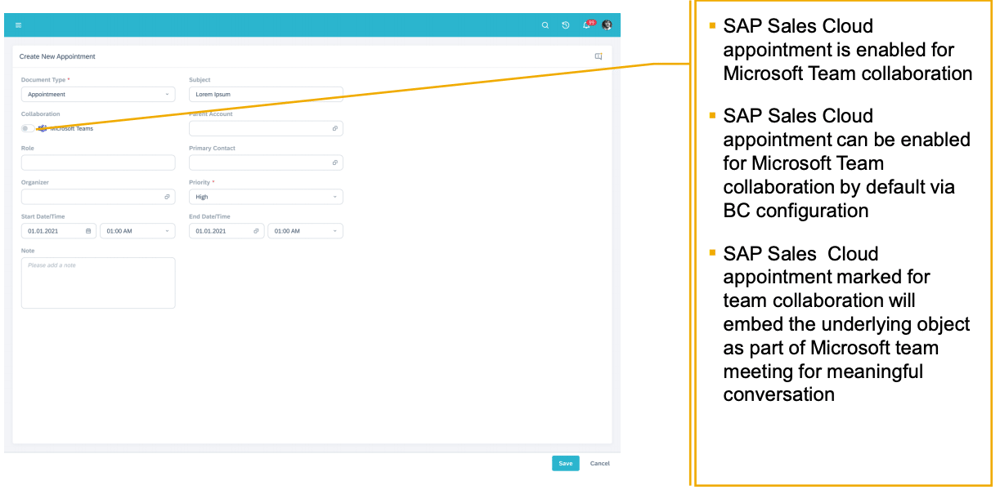 Conversely, Microsoft Teams provides direct access to context information from SAP Sales Cloud. Users can access this information with a single click, view object details as part of the meeting invitation, and edit records based on the permissions assigned to them in SAP Sales Cloud.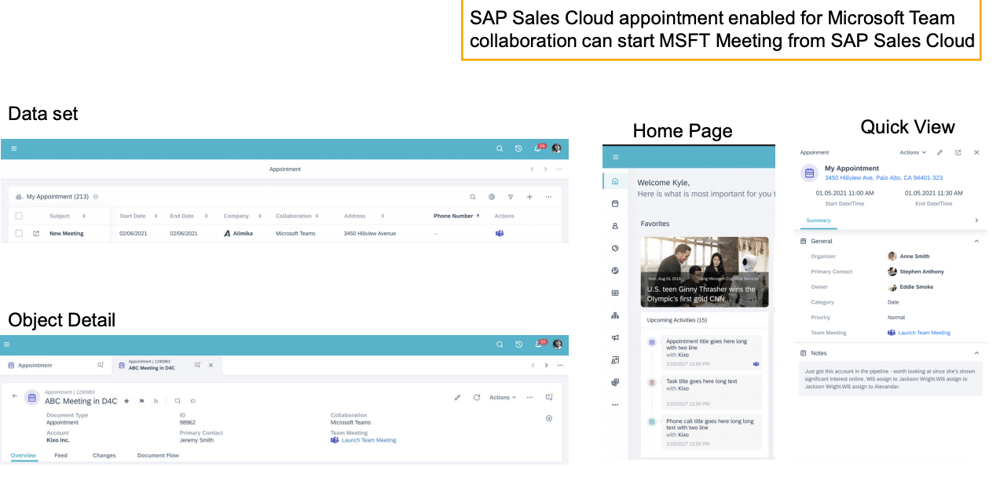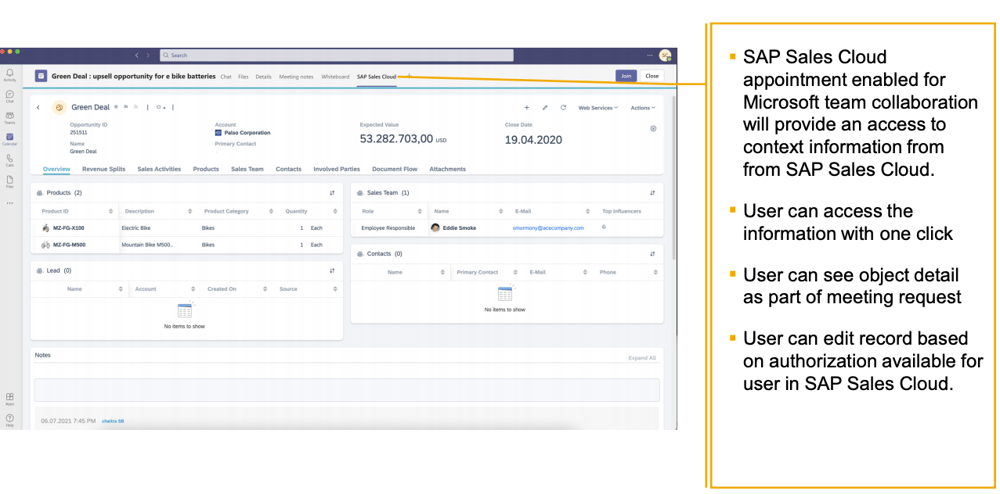 Business Partner
C4C Release 2108 enables the direct creation of tickets with customers and contacts. The customer summary includes additional fields from the sales data.
Analytics
SAP Analytics Cloud (SAC) Embedded is now generally available. Users can use the Query Designer, Linked Analysis, Explorer Mode, and filtering options for stories and pages.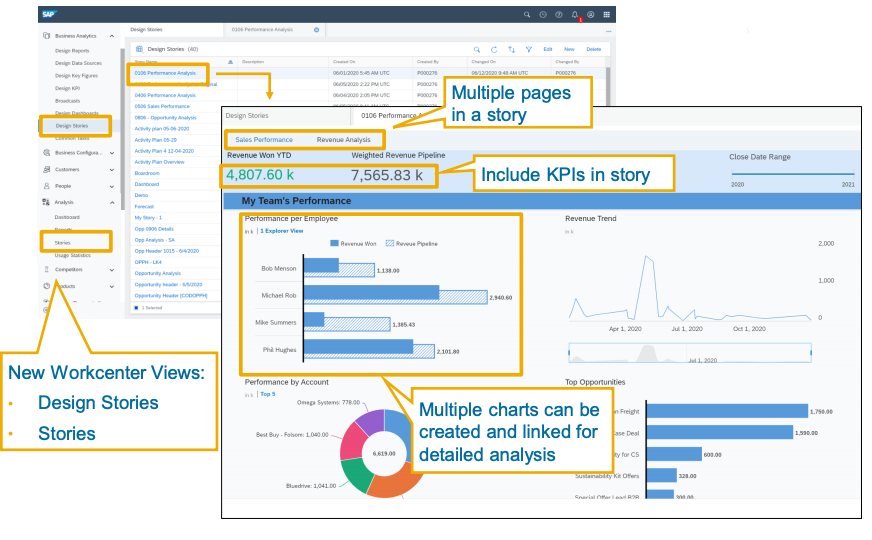 Key User Tools
Using rules, users can dynamically assign specific font colors to individual fields. This brings considerable advantages in terms of usability. Additional fields can be explicitly enabled for search.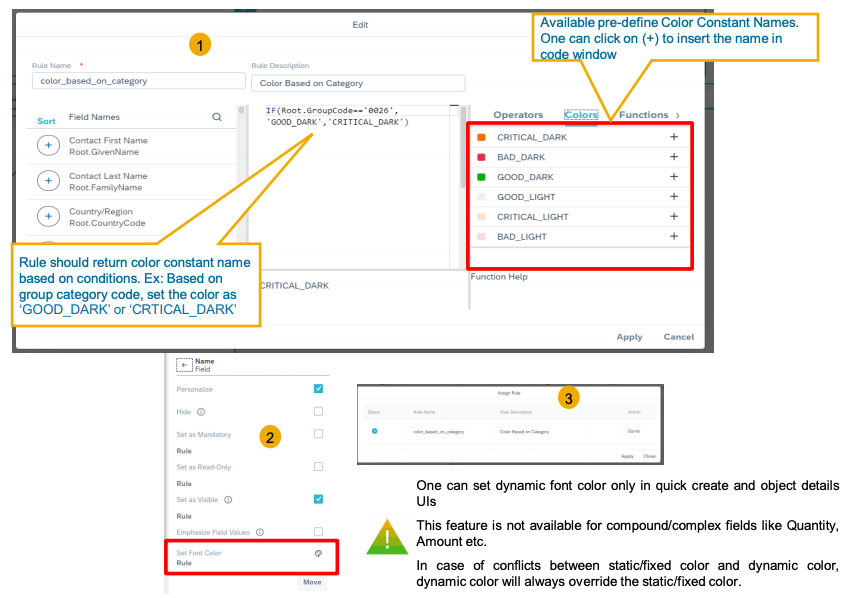 New Global Search (Beta)
C4C Release 2108 includes a new global search in beta status, which is technologically based on Elasticsearch. The search displays quick results directly when the search term is entered. Users also have access to a history of searched terms, various filtering options and detailed results.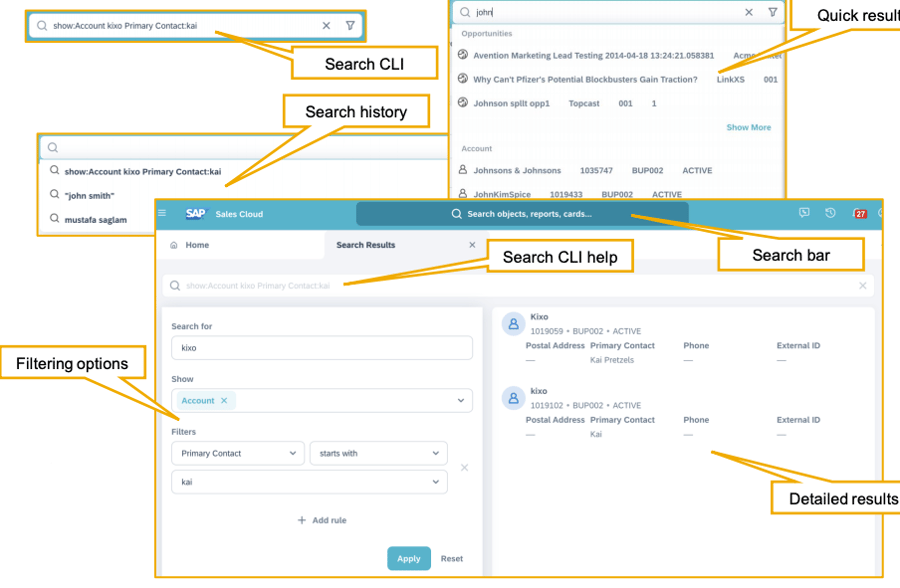 Integration
The integration of SAP C4C and SAP CPQ 2.0 ensures quick and accurate quotes. This makes it possible to create CPQ quotations in SAP C4C and synchronize data between the two systems. In addition, the new SAP CPQ quote 2.0 functionality can be used.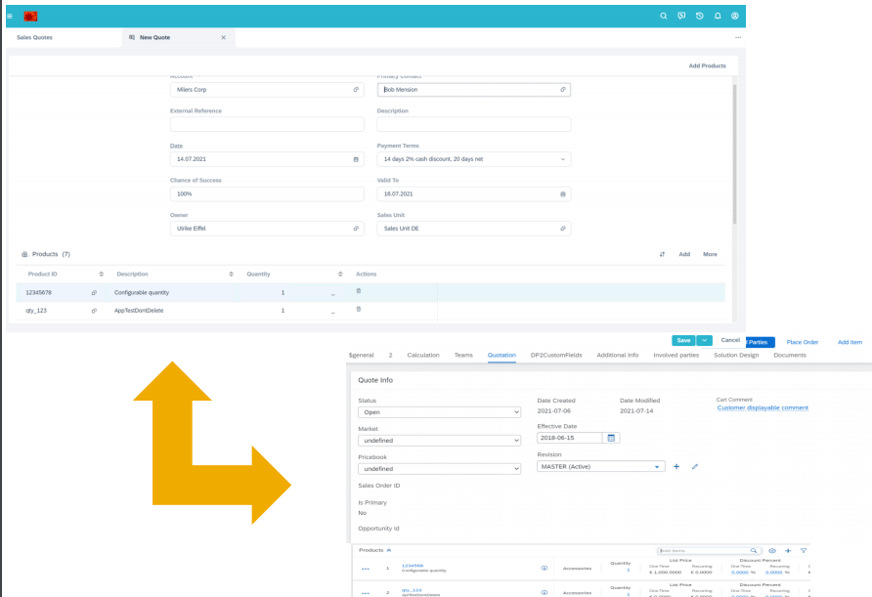 Via SAP Master Data Integration (MDI), material master data can be integrated with SAP C4C to distribute product data centrally.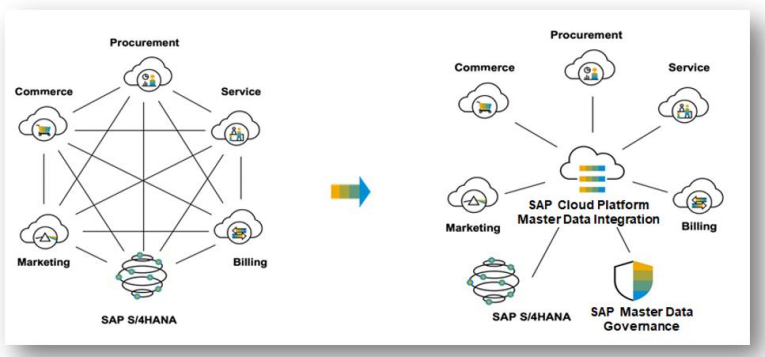 SAP Sales Cloud
Leads
Territories from the lead are transferred during conversion to a customer/contact person or to an opportunity.
Opportunity
The opportunity progress additionally considers linked activities. Existing tickets can be added to an opportunity.
Visits
Tasks/surveys can be added directly to visits via the sidebar.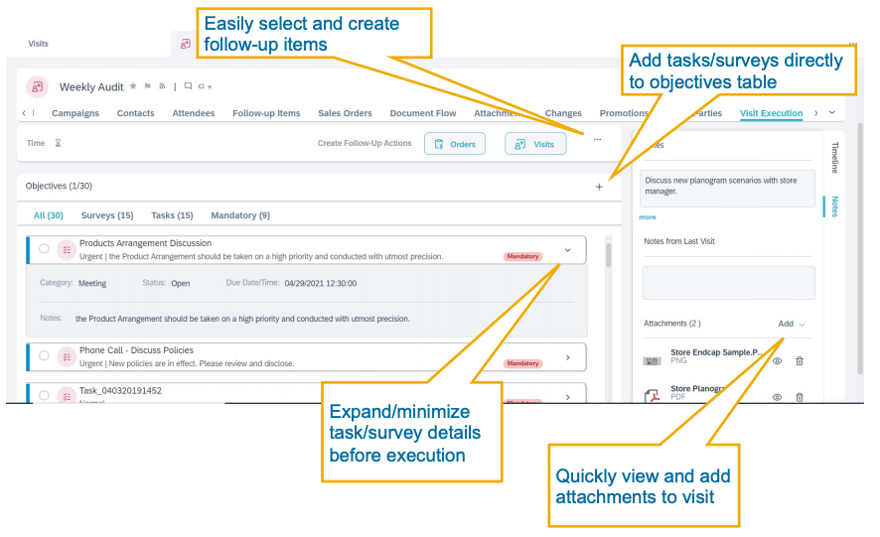 Participants in visits can be added directly when they are created.
Surveys
A business add-in (BAdI) is available for the dynamic determination and classification of products in surveys.
Quotes/Orders
In the quotes/orders area, additional error messages can be suppressed via customizing with C4C Release 2108. There are also additional fields for pricing.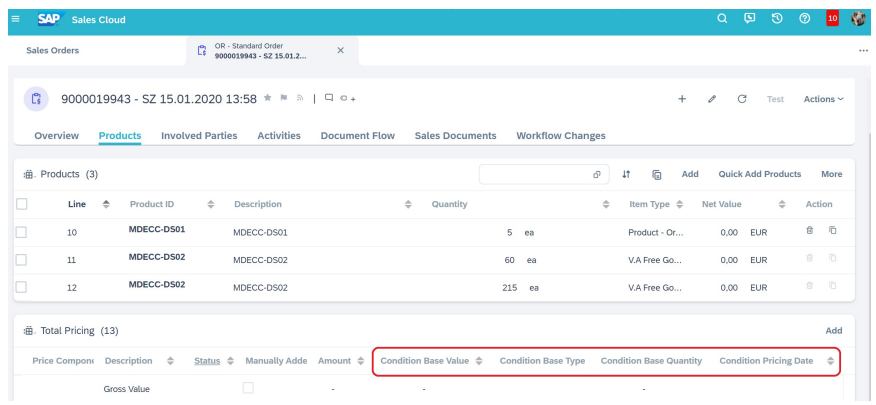 Dynamic Visit Planning
The add-on enables list-based visit planning. The system uses historical traffic data for optimized route planning. Rules can be used to automate visit planning.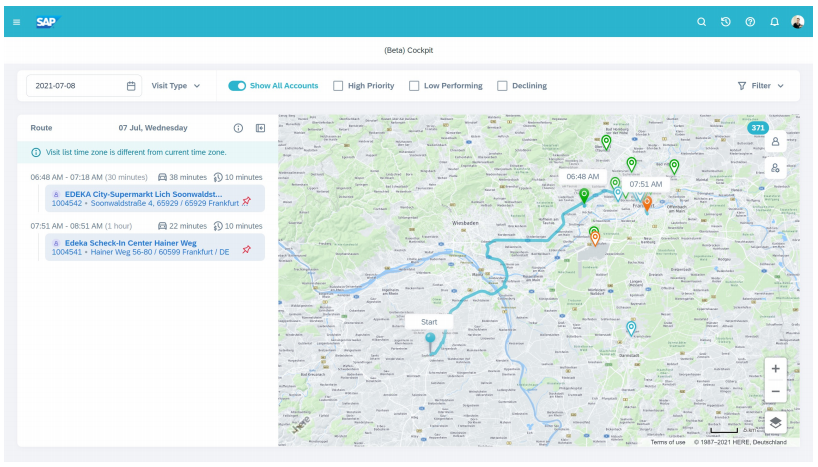 Intelligent Sales Add-on
The Intelligent Sales add-on comprises the components Sales Assistant, Guided Selling, Relationship Intelligence and Customer 360. A Sales Assistant chatbot is now available in the mobile app.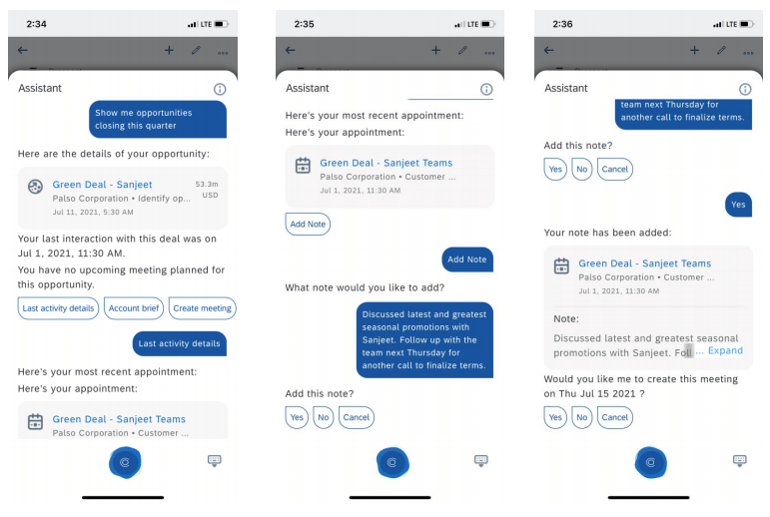 Guided Selling for Opportunities is available as a beta version in C4C Release 2108. It provides flexible and customized support for the sales process.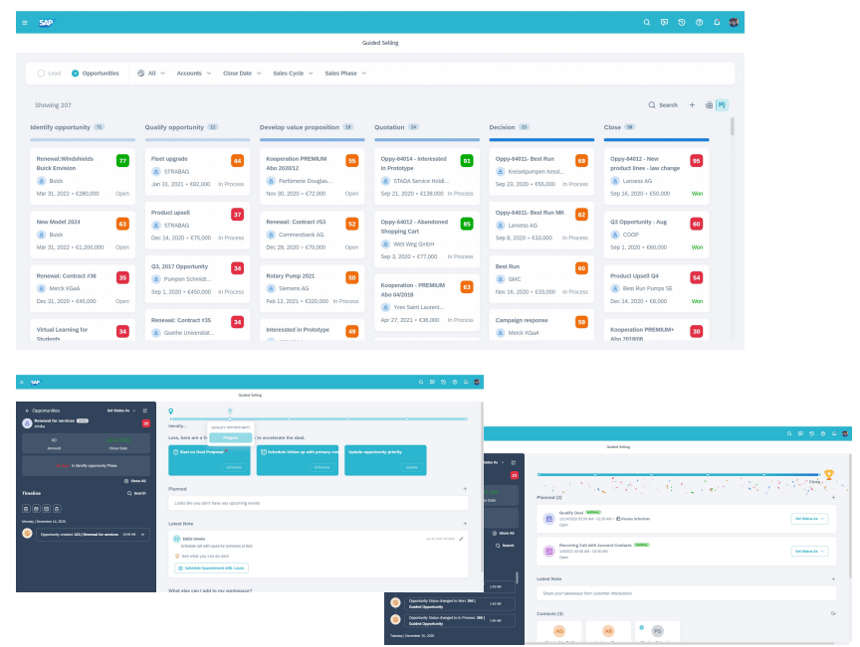 The playbook suggests suitable activities/actions for each sales phase.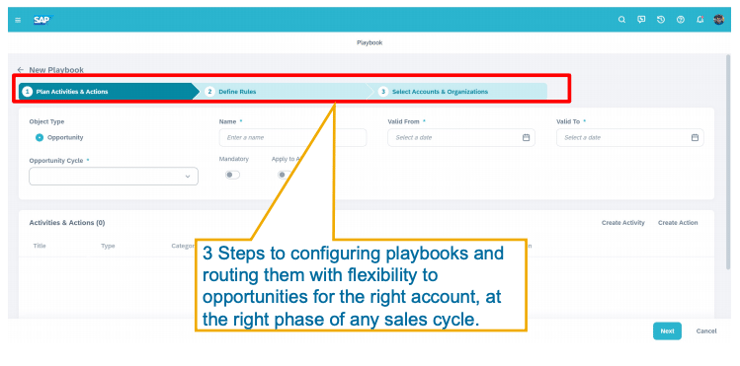 Relationship Intelligence is also available in beta status. The functionality analyzes the contacts and relationships in an opportunity. It also enables a view of colleagues who are in contact with the buying center. All e-mails and meeting activities outside of SAP Sales Cloud are also analyzed.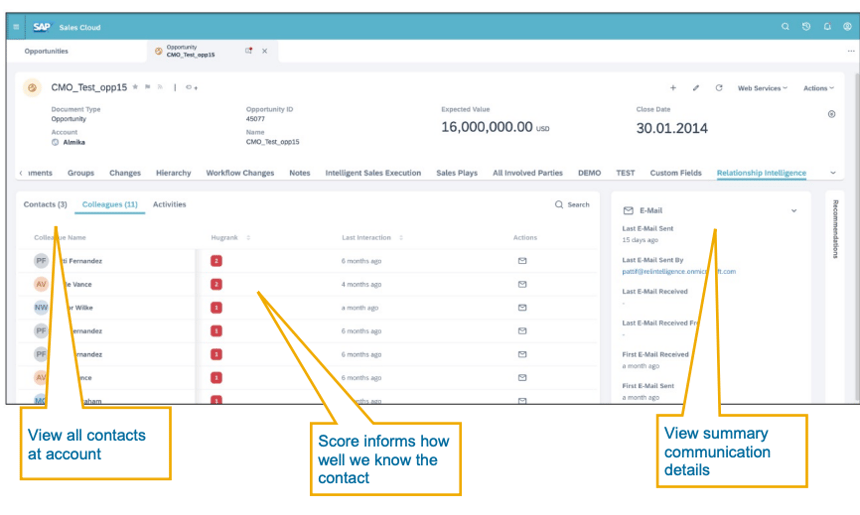 Customer 360 provides AI-based insights and bundles various customer activities on one dashboard. For example, sales KPIs from Pipeline Manager and Forecast Tracker, opportunities from Deal Intelligence, web store activities from SAP Commerce Cloud, and appointments and activities are summarized and clearly displayed.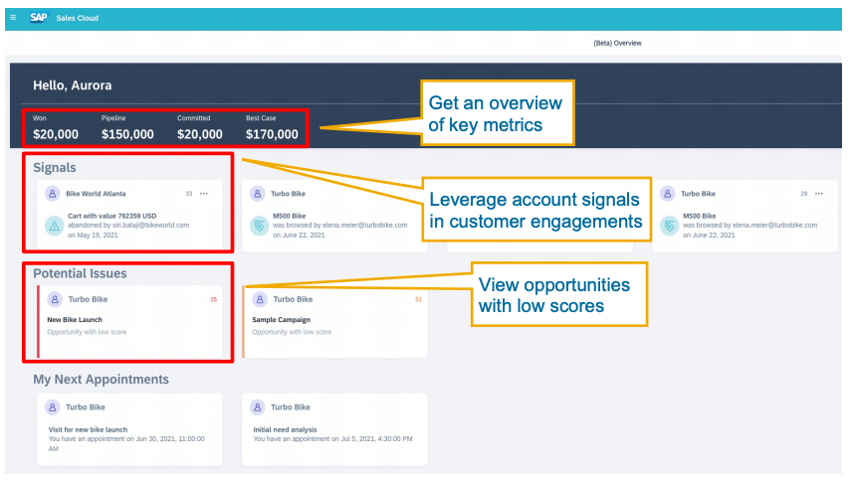 In addition, data from Relationship Intelligence, back-office information from SAP S/4HANA – from invoices to contracts to credit limits – and information from ticketing are provided.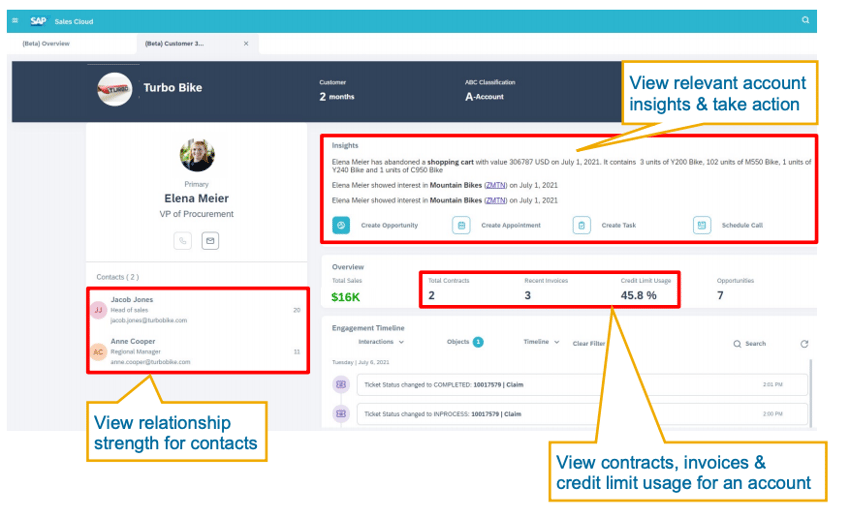 SAP Service Cloud
Service Channels
Internal notes and portal notes can be maintained using the rich text editor of TinyMCE.

Service Management
In service management, there is a code list restriction for distribution channel and division. It is also possible to track the change history for measurement points.
Agent Desktop/Console
The add-on is now generally available for SAP Service Cloud. It realizes better process guidance for service employees. All functionalities are centralized at the customer. The Agent Desktop can be flexibly adapted to the customer's own processes.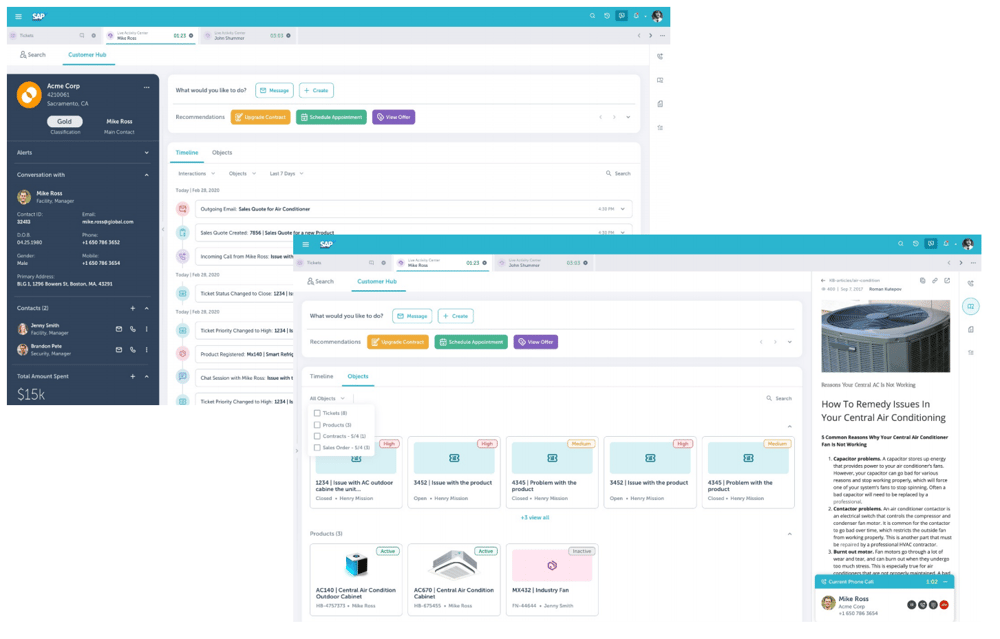 Furthermore, the add-on offers computer telephony integration (CTI) for phone, chat and SMS with events and transcription. Customers are found automatically and manual search is supported.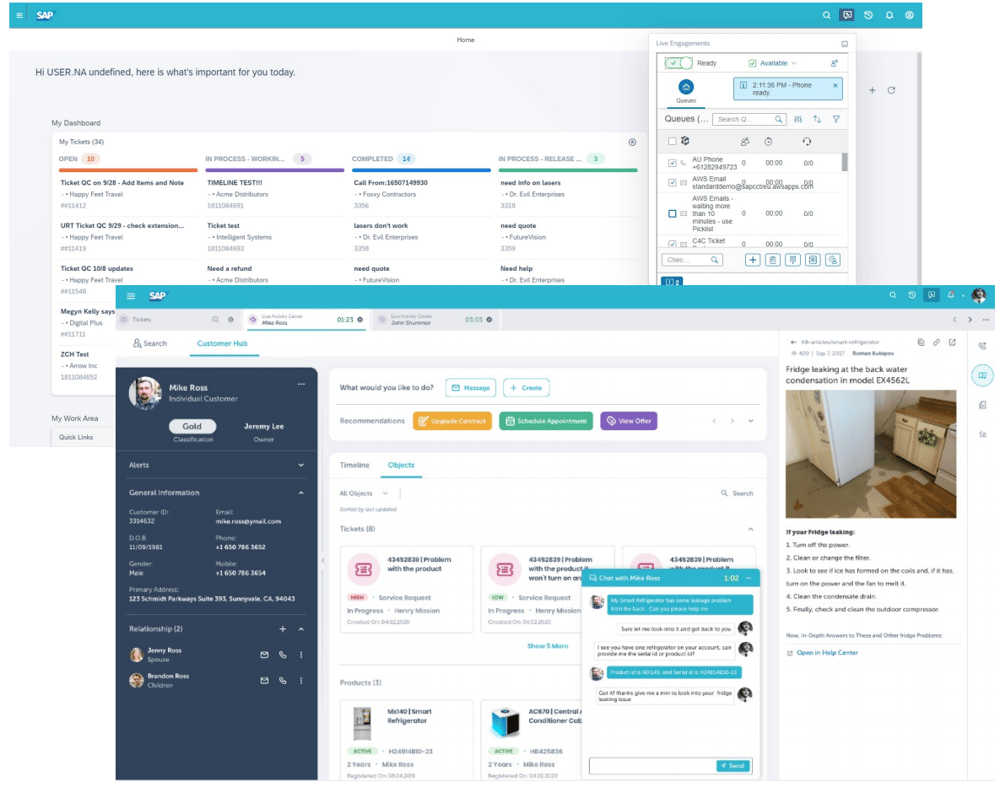 Schedule
SAP has announced the roll-out of C4C Release 2108 in the test systems for August 7, 2021. The update is then scheduled to be rolled out in production systems on August 21.
Looking for a unified digital foundation for your sales organization?