Customer service expectations are continually increasing. Customers demand proactive service that takes action before a machine is down. They want to be fully informed about the upcoming steps in the service process – from the exact time of the on-site visit to the spare parts needed. New billing models, where customers can choose from a range of products and services for a monthly fee, and the ability to contact companies in a wide variety of ways as part of an omnichannel approach are increasingly in demand. In short, when it comes to service, customers in the B2B environment want to enjoy the same customer experience as they do as consumers in the private sector.
---
Do you already know what your customer service will look like after 2030?

---
Prerequisites for efficient service
With regard to service employees, it is desirable that they take on assignments that match their qualifications. For smooth and efficient service calls, technicians need access to complete information regarding machine and customer history as well as open spare parts offers, and should ideally be reachable at all times via mobile devices. In addition, they must be able to rely on actually finding the relevant resources on site – for example, spare parts they need for the repair. Management, in turn, also has specific requirements for customer service: it should be as efficient as possible, offer the best possible quality, increase customer loyalty and generate additional revenues.
Mapping service processes with suitable software
Companies are faced with the challenge of meeting the diverse expectations placed on service with the help of suitable software solutions. In SAP ERP, SAP Customer Service (CS) has proven itself as a powerful module. The catch: In SAP S/4HANA, SAP CS is only available in compatibility mode until the end of 2030. Companies will therefore have to find an alternative for the time after that.
The approaching end of SAP CS is accompanied by a general change in corporate IT. The advance of cloud technologies is making business departments independent of IT to a certain extent, as they can use applications for sales and service more independently, for example. In the course of digitization, many companies are currently faced with decisions on strategic investments in (cloud) platforms in order to digitize business processes. Innovative technologies such as machine learning, artificial intelligence and virtual reality must be combined with existing SAP systems. The task is to reconcile the emerging power of innovation with the stable core processes in service, financial accounting and supply chain, which should remain as unaffected as possible.
SAP's dual-track service strategy
This dual-track approach is also reflected in SAP's future service strategy. SAP S/4HANA Service, as the successor to SAP Customer Service, provides the stable core within which the basic processes run. Here, there is little potential for differentiation from the competition because the processes are similar in most companies.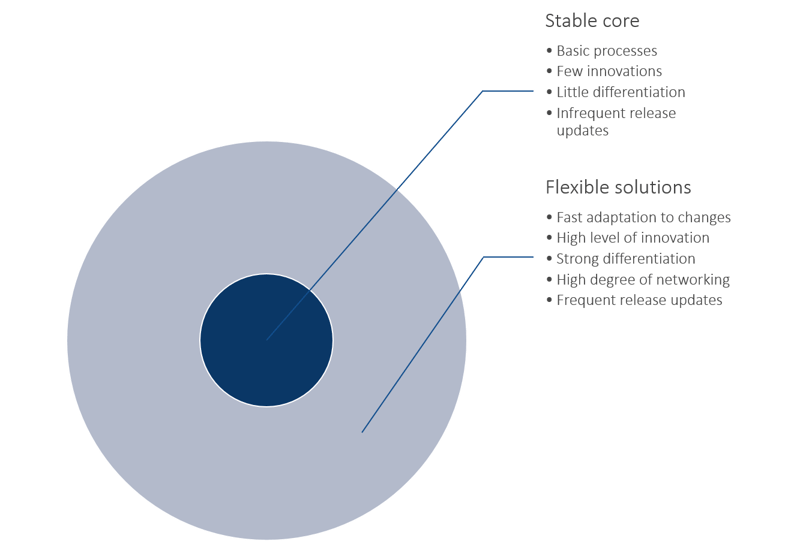 Around the stable core with the basic processes, flexible cloud solutions are arranged, with which companies can make the difference.
The second component in the SAP service strategy are flexible cloud solutions that enable companies to respond quickly to changes and new requirements. They offer high innovation power without touching the core processes. With clean service touchpoints, portal solutions and the Internet of Things, companies can stand out from the competition, generate additional revenue and increase customer loyalty.
The various layers around the stable core include SAP Service Cloud with omnichannel and ticketing functionalities and other solutions from the SAP Customer Experience portfolio, for example for field service, as well as SAP Intelligent Asset Management, which enables the management of complex assets and installations and covers the areas of IoT condition monitoring and predictive maintenance. Analytics solutions form an analysis layer across all systems and ensure holistic reporting in the front end and back-end as well as predictions using predictive analytics.
SAP S/4HANA Service for back-end processes
Service management and the handling of back-end processes will in future run via SAP S/4HANA Service, which used to be called SAP S/4HANA Customer Management. The module is needed to actually map the service process end-to-end. SAP S/4HANA Service combines the functional elements from SAP Customer Service and SAP CRM Service with various innovations. Since the maintenance window for SAP CS in compatibility mode ends in 2030, companies must have completed their service transformation by then.
As functional areas, SAP S/4HANA Service includes service planning, technical services, commercial services and service analytics. In the area of service planning, SAP S/4HANA Service enables the development of holistic strategies for the service offering. In this way, the complete service lifecycle can be planned with services and products. Technical services are about end-to-end execution of classic service management and service operations – from planning to fulfillment. All the services required for this can be managed on a single platform and in an end-to-end integrated manner. Commercial services offer the opportunity to differentiate from the competition through a commercial end-to-end model with high-value bundled solutions. Service analytics provide insights into service performance without the need for technically complex reports. This helps maximize the productivity of service operations. In addition, analytics capabilities predict the impact of specific actions on business outcomes throughout the process.
SAP Customer Experience for direct customer contact
SAP Customer Experience (CX) products play a role in the service process whenever interactions with customers and the planning and execution of service operations are involved. With mobile apps, offline functionality and global accessibility, SAP CX plays to its particular strengths as a cloud solution. Customer requests should be bundled and run on one service system – regardless of the channel through which the requests are made. SAP Service Cloud plays a central role here by providing omnichannel and ticketing functionalities and ensuring that service staff can concentrate on the more complex cases. Order management with service orders and spare parts quotations can also be handled via SAP Service Cloud. Other solutions from the SAP CX portfolio include SAP Field Service Management (FSM) for workforce scheduling and Qualtrics for customer experience management using satisfaction surveys and follow-up actions.
Strategies for replacing SAP Customer Service
The compatibility mode of SAP Customer Service in SAP S/4HANA will expire on December 31, 2030. Therefore, companies should already start looking at how they can switch from the SAP CS module to SAP S/4HANA Service. During the transition phase, SAP CS can continue to be used under SAP S/4HANA. However, it makes sense to replace the functionalities that will later no longer be available under SAP S/4HANA Service with an SAP CX product now and integrate them with SAP CS. A common approach is to reduce the CS scope to the back office processes and then replace SAP CS with SAP S/4HANA Service in the future.
Option 1: "Minimize Impact"
Various options are conceivable for the service transformation from SAP Customer Service to SAP S/4HANA Service. In the "Minimize Impact" approach, as many functionalities as possible from the SAP CS/PM context should continue to be used and only a few functionalities should be transferred to the SAP S/4HANA world. In order to replace the SAP CS module, the switch to SAP PM objects for handling back-end processes takes place in the background, which are available for longer and offer better integration. The goal of "Minimize Impact" is to keep the migration effort as small as possible by keeping the CS process and replacing the CS objects with enhanced PM objects. The commercial parts of the CS process are mapped with SAP S/4HANA Service.
Option 2: "Best of both worlds"
Another approach for the service transformation is called "Best of both worlds". Here, significantly more functionalities from SAP S/4HANA Service are already used in the transition phase, and only a comparatively small proportion remains in the SAP CS module. Resource planning is outsourced to SAP Field Service Management, while the tasks and integration modules remain in SAP Customer Service. A key advantage of this approach is that SAP CS customers achieve maximum innovation. The service process in SAP S/4HANA Service includes the same functionalities as the SAP CS process. The higher migration effort is outweighed by the innovations that can be realized and the associated benefits.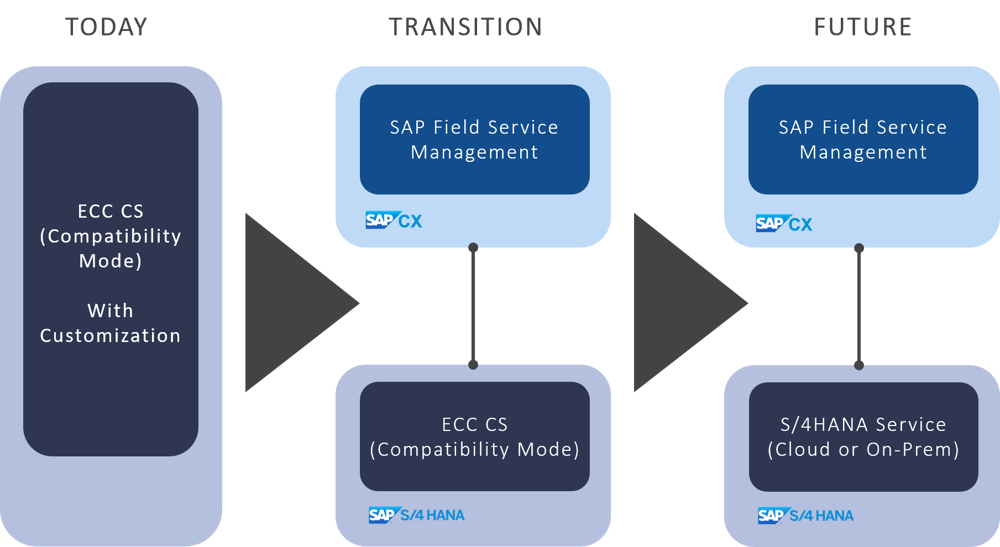 In the future service landscape of companies, SAP S/4HANA, SAP Customer Experience and SAP Field Service Management will have key roles.
For the "best of both worlds" approach, SAP FSM must communicate with SAP ECC or with SAP S/4HANA. Today, the CS process is mapped without the enhancements from SAP S/4HANA and parts of the CS process are outsourced to SAP FSM. The first transformation step is then the change from SAP CS/PM to SAP S/4HANA Service. Because some functionalities are outsourced to SAP FSM, there is less CS legacy. The final step of the service transformation is the integration of SAP Service Cloud. Then the process no longer starts with a service order, but with a ticket. The service order is triggered as a follow-up action from the ticket.
Option 3: Greenfield approach
The third option that companies can opt for in the service transformation is the greenfield approach. In this case, SAP CS processes are completely rebuilt in SAP S/4HANA Service to cover all functionalities with it as early as possible. The integration runs via standardized APIs.
Conclusion: Start early with your service transformation
Companies need end-to-end, digitized service processes to drive value in customer service through innovation. The combination of stable processes and flexible enhancements creates investment security. In the future, SAP S/4HANA Service will be used for business processes in the back office. SAP CX solutions create a flexible front office and make the work of service agents and service technicians easier. SAP Business Technology Platform is used as a basis for integration and enhancements. For a successful service transformation, it is crucial to create a concept for the replacement of SAP Customer Service at an early stage. The focus should be on processes and not on technology.