Anyone who moves in the SAP world has to be flexible – also with regard to changing names for software solutions and services. Another prominent member has joined the list of product names that SAP is no longer officially using: SAP Cloud Platform (SCP). What are the consequences of this decision for users?
---
SAP Business Technology Platform is the technological basis for the intelligent enterprise

---
SCP services are now part of SAP Business Technology Platform
Dropping SAP Cloud Platform as a name does not mean that the content and services that SAP previously offered under this name are no longer available. On the contrary: Especially in the context of the new SAP offering RISE with SAP, extension and integration play an essential role. They remain indispensable factors in realizing the intelligent enterprise proclaimed by SAP. The functionalities of former SAP Cloud Platform are now bundled together with other services under the umbrella of SAP Business Technology Platform.
Unified platform for digital business transformation
The decision to abandon the term SAP Cloud Platform in the future is primarily strategic in nature. With SAP Business Technology Platform, SAP is pursuing the goal of establishing a uniform, open and business-oriented technology basis for all SAP applications. This is intended to focus more strongly than before on the business added value of the concept. SAP Business Technology Platform forms the basis on which companies realize their digital business transformation in the cloud. It ensures that all SAP applications are user-friendly and integrated in the best possible way, and ensures that non-SAP applications can also be connected and extended.
SAP Business Technology Platform comprises four pillars
To handle these comprehensive tasks, the SAP Business Technology Platform consists of four pillars: Database & Data Management, Analytics, Application Development & Integration, and Intelligent Technologies. The integration and extension functionalities of former SAP Cloud Platform belong to the Application Development & Integration pillar and are combined in SAP Integration Suite and SAP Extension Suite.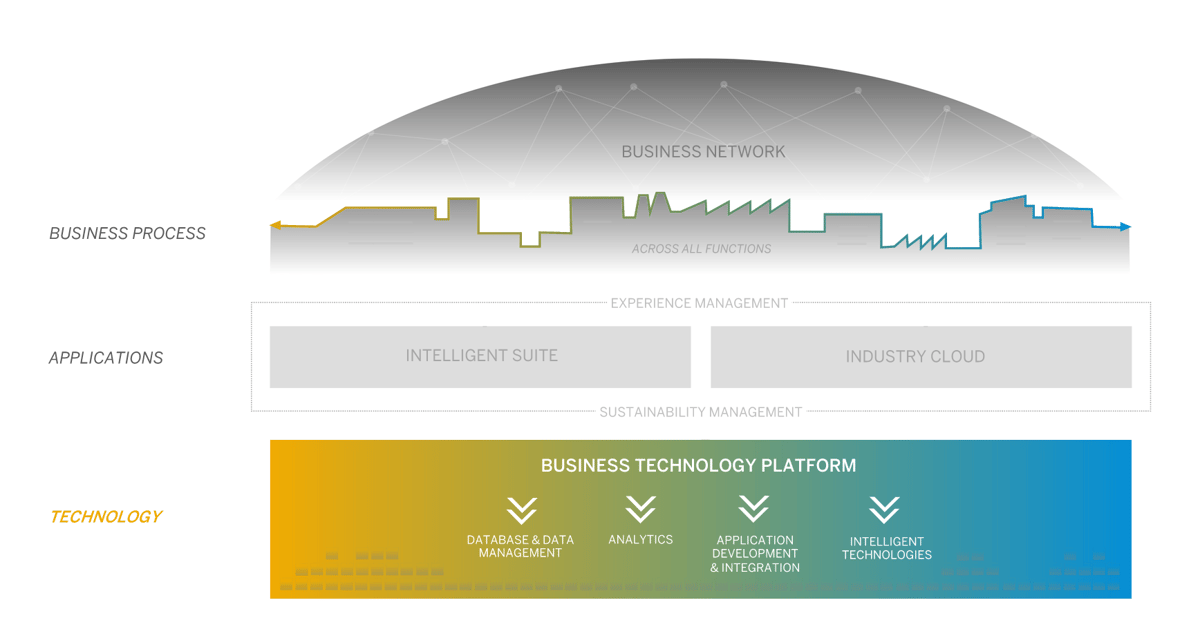 Source: SAP SE
The application development and integration services available on SAP Business Technology Platform enable companies to quickly adapt to dynamic business conditions and customer requirements. The ability to extend and integrate existing on-premise and cloud applications without interfering with core business processes is essential to driving innovation and ensuring business value. SAP Business Technology Platform supports diverse deployment scenarios and ensures seamless interaction between on-premise systems, cloud and multi-cloud architectures, and hybrid landscapes.
SAP Extension Suite and SAP Integration Suite
With preconfigured services and tools, SAP Extension Suite simplifies application development. As a result, companies are better able to create digital experiences and automate processes. In view of heterogeneous system landscapes in companies, it is also becoming increasingly important to integrate the various components seamlessly. SAP Integration Suite accelerates the enterprise-wide integration of applications, data, and processes, making a significant contribution to the intelligent enterprise. This is achieved with the help of ready-made integration content as well as simplified data and process orchestration across SAP and third-party applications.
Conclusion: Familiar functions under a new name
The name SAP Cloud Platform is passé, but the technical capabilities of the cloud services are still fully available and probably more important than ever. Thus, little should change for companies in practice. The integration and extension functions, now positioned as part of SAP Business Technology Platform, continue to play a central role in the digital transformation of companies. Key benefits that companies can achieve with SAP Business Technology Platform include quickly generating business value from data, seamlessly integrating across the enterprise across applications, processes and networks, and developing and extending applications.