39% of DSAG companies in Germany, Austria and Switzerland are increasing their general IT investments in 2021 – just under a third of these in the range of 10 to 20%. With regard to SAP systems, as many as 43% say they will increase their budget for the current year. These figures were published by the German-speaking SAP User Group (DSAG) in its DSAG Investment Report 2021. While 37% expect investments to remain the same as last year, 18% of DSAG members are cutting their spending on IT. "The figures prove that the pessimistic mood of last summer has now given way to cautious optimism," says DSAG Chairman Jens Hungershausen.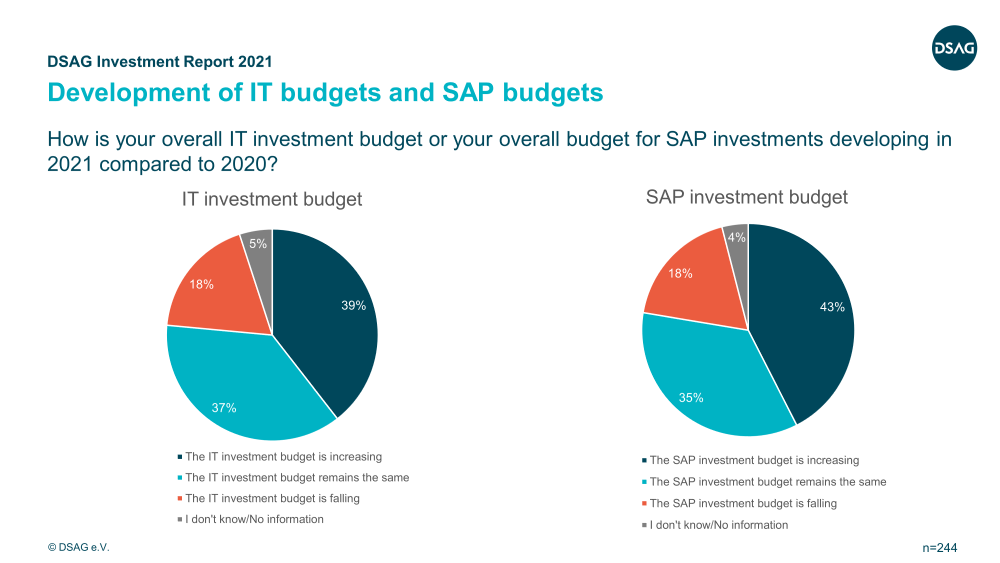 SAP S/4HANA gaining ground
The DSAG Investment Report 2021 places a special focus on spendings on ERP software. Here, the pendulum is swinging increasingly in the direction of SAP S/4HANA. Thus, 44% of companies are planning high and medium investments in SAP S/4HANA on-premise (no change from the previous year) and 12% in SAP S/4HANA Cloud. In contrast, 25% of DSAG members have high and medium investments in SAP Business Suite, a decrease of 10% compared to 2020.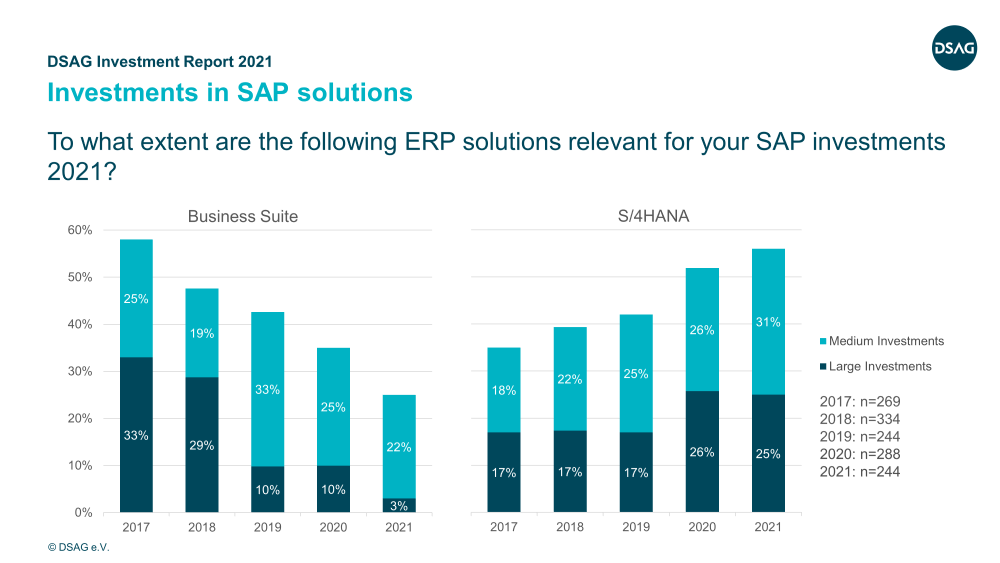 14% of respondents are already using SAP S/4HANA (2020: 10%) and another 10% are planning to move to SAP S/4HANA this year (+1%). Within the next three years, 39% of companies want to implement SAP S/4HANA. "There is steady progress with the migration. But it needs to be (...) well planned. A certain reluctance in these uncertain times is understandable," says Jens Hungershausen.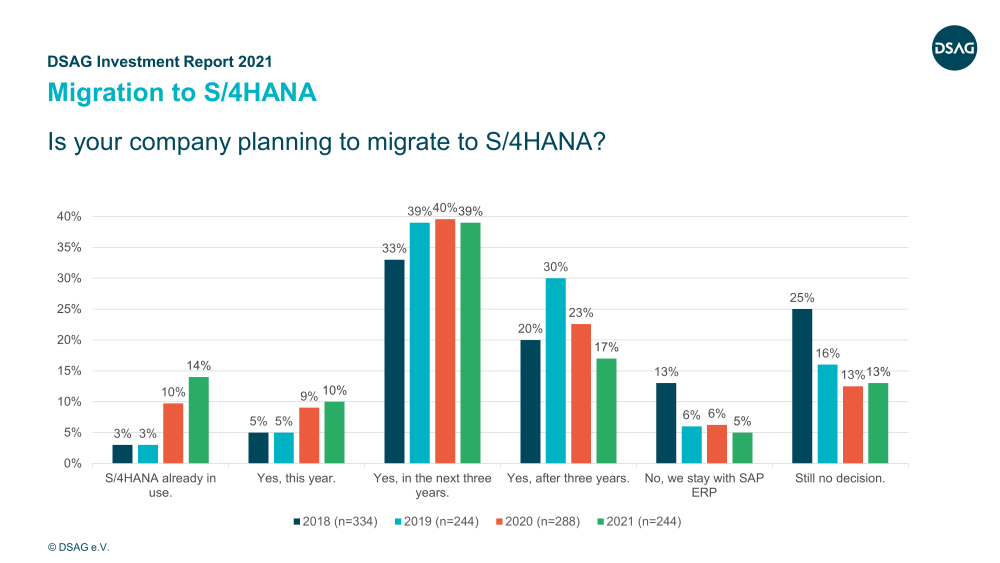 Many companies still undecided about the license model
For the first time, the DSAG Investment Report also looked at the licensing strategy that companies are pursuing when switching to SAP S/4HANA. What is striking is that 39% of companies have not yet made a decision. 22% would like to retain their existing license model and carry out a product conversion. The proportion of those who initially want to remain in the existing license model and switch to the SAP S/4HANA license model at a later date via contract conversion is 12%. A direct switch to the SAP S/4HANA license model is the goal of 13% of DSAG members.
Planned investments in the SAP Analytics Cloud
As far as SAP's cloud solutions are concerned, companies' investments are rather limited. Most of them are planning high and medium investments in SAP SuccessFactors (15%), the SAP Analytics Cloud (14%) and SAP Customer Experience (8%) this year. For Jens Hungershausen, the ranking of SAP Analytics Cloud in particular comes as no surprise: "Analytical capabilities to quickly create meaningful reports from all relevant departments are a high asset in times when flexibility in processes and decisions is required." SAP Industry Cloud (2%), Qualtrics (2%) and SAP Fieldglass (1%) are at the bottom of the rankings.
Digitization is making headway
Companies' self-assessment of digitization is positive. 41% – and thus 9% more than in 2020 – assess themselves as "far/very far" along in the process of digital transformation. Respondents would like to make high and medium investments primarily to increase the efficiency of existing processes (63%), create information transparency (47%), establish new digital business models and services (34%) and make relationships with customers and partners more flexible (26%).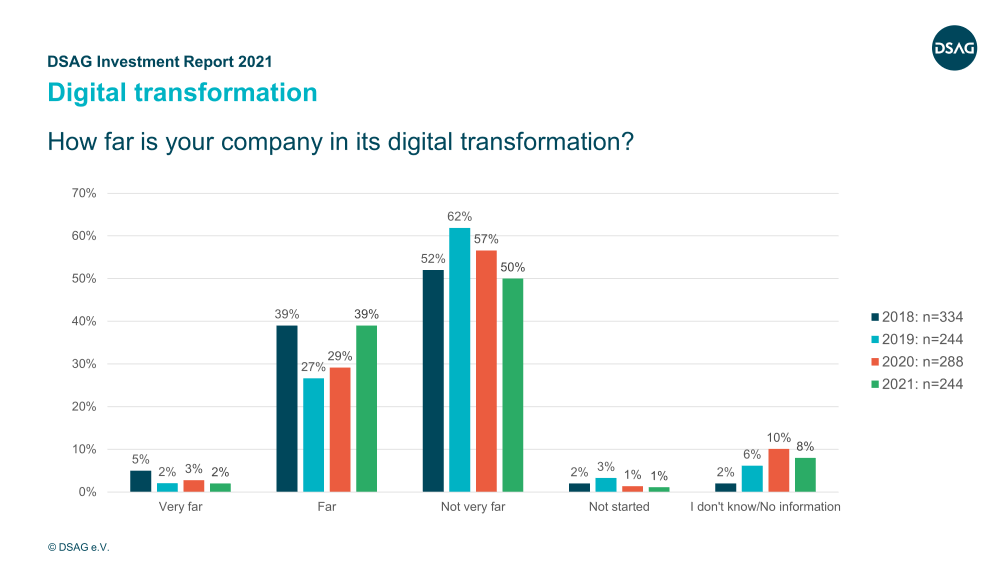 Conclusion: IT investments strengthen companies
The rising investments in IT overall and in SAP systems can be interpreted as cautious optimism among companies despite the ongoing Covid 19 pandemic. It is possible that the Corona crisis in particular has made some companies aware of how important a high-performance IT landscape is for greater flexibility and resilience in uncertain times. However, this requires appropriate investments. SAP S/4HANA is moving into focus for an increasing proportion of companies. Even though digitization in general seems to be making progress, at least the acceptance of cloud solutions in companies still has room for improvement.
Use your financial resources in a targeted manner